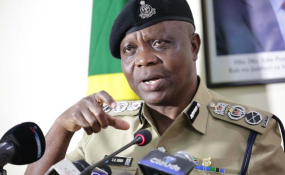 Photo: Daily News
By Louis Kolumbia
Dar es Salaam — The new Inspector General of Police (IGP), Mr Simon Sirro, yesterday outlined his priority areas following his appointment on Sunday.
Addressing a press conference in the city, IGP Sirro named some of his priorities as ending the Rufiji killings, fighting against crime, stopping extrajudicial killings and mob-justice, fighting against corruption in the Police Force and speeding up criminal investigation.
Mr Sirro was appointed on Sunday by President John Magufuli, to replace Mr Ernest Mangu, who would be assigned to other duties.
He had been the commander of the Dar es Salaam Special Police Zone since January 2016.
He told reports that the return of peace and security in the Coast Region after a spate of killings in the last two years would be his priority.
Rufiji killings
"The killings of village leaders, police officers, government officials and CCM cadres in Ikwiriri and Rufiji districts are just a temporary scare. The Commander in Chief of Armed Forces, President Magufuli, and Home Affairs minister Mwigulu Nchemba have spoken on it. My duty is to act," he said.
He added: "Tanzanians need answers to the killings. My team and I need to provide them, which we will do in the next few days. On this issue, let actions speak louder than words."
Mr Sirro, who was on Monday sworn in as the new IGP, said it was unacceptable that a group of Tanzanians terrorised others with impunity.
More than 31 people have been killed in Rufiji, Kibiti, Mkuranga and Kilwa districts since the incidents started being reported in January 2015. Among those killed are police officers, government officials and allegedly assailants killed in confrontation with the police. More than half of those killed are village leaders and CCM cadres. The assailants are reported to arrive on motorcycles, bicycles or even on foot, shoot their target, sometimes in front of family members and then disappear into the bushes.
The police have so far failed to unravel the killings, but Mr Sirro yesterday said he would come with new tactics that would put the killings to an end.
One of the tactics would be deepening the engagement of residents in providing information.
"We will now offer Sh10 million to anyone with relevant information about the killers," Mr Sirro noted.
The amount is on top of Sh5 million promised by Coast Regional Police Commander Onesmo Lyanga for the same purpose. He urged residents to stop fleeing the areas ravaged by the killings, instead they should remain and cooperate with the police in ending the killings.
Fighting against crime
Speaking on plans to fight against crime, Mr Sirro said the police would start with bodaboda riders, who conspired with criminals to commit fulfil their target.
"I have instructed regional police commanders to ensure bodaboda operators, who violate the law are arrested and charged. Those who don't respect traffic lights will be dealt with accordingly until compliance with the law is reinstated," he said.
Mob-justice and extrajudicial killings
Increasing incidents of mob-justice worry Mr Sirro. Reports show that between January and March this year, the police recorded 245 cases of mob-justice, which were more by 23 incidents than last year's in the same period.
Mr Sirro warned people, who take the law into their own hands by beating up, burning and killing suspected criminals to stop immediately.
Corruption in the Police Force
Mr Sirro, the tenth IGP since independence, said his leadership would not tolerate corrupt police officers.
"The public should stop bribing police officers. From now on a police officer, who will arrest a person trying to bribe him/her will be awarded the same amount of money," he said.
Crime investigations
The police have been blamed for stalling court cases due to poor or incomplete investigation. But Mr Sirro said he would ensure the police played their part with due diligence.
"Probing criminal cases is a crosscutting issue involving various agencies and institutions. The police will play their part too," he emphasised.