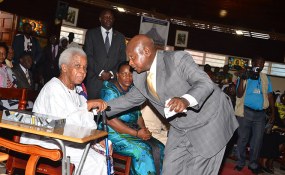 Photo: The Observer
By Jonathan Kamoga
President Yoweri Museveni has said that he would be happy if the Catholic Church made former Tanzania president, Julius Nyerere, a saint because of his courage to fight for social justice during his time.
Museveni expressed his thoughts yesterday at the Namugongo Catholic shrine during a mass organized to commemorate the annual Nyerere day, which is celebrated every June 1.
"As a witness to Mwalimu's good works on earth, the fearlessness he had when fighting for justice ─ just like these Uganda martyrs had - the courage he had while fighting for the liberation of other African countries from colonial rule in spite of being weak, I will be happy if he is canonised," he said.
On May 13, 2005, Pope Benedict XVI declared Nyerere a servant of God, the first step towards his beatification and then canonization to sainthood. The president, who was addressing a full house with delegations from Kenya and Tanzania, added that besides his stand for social justice, Nyerere also hated sectarianism and wanted a unified East Africa.
The president said it was through Nyerere's mentorship that leaders of some countries now have a vision for the people they lead. Quoting the Bible, he added that a nation without vision was bound to perish.
"I am a Pan-Africanist. I am a follower of Nyerere; I am a follower of Nkrumah; these martyrs and Mwalimu Nyerere are now bringing us together here," Museveni said, calling the congregation a summit of ordinary people.
In yesterday's congregation was the family of Nyerere led by his widow Mama Maria Nyerere. Since June 1, 2009, Uganda has celebrated Nyerere day, which was declared during a mass at Namugongo following a request by the former Tanzanian president's family as part of the quest for his beatification and canonisation.