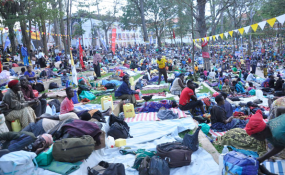 Photo: Daily Monitor
opinion
By Derrick Wandera
The Uganda martyrs have notably become the most celebrated group of faithful in the history of Christianity in Uganda. Forty-five young men were executed on orders of Kabaka Mwangaof Buganda in 1880. Twenty-two were Catholics and 23 Anglican.
Every June 3, the faithful especially, Catholics take part in a pilgrimage to Namugongo Shrine from different corners of the world in commemoration of the martyrs.
Last Saturday, a shorter trek from Munyonyo to Old Kampala through some of the sites where some martyrs were killed was held.
Dubbed 'walk of faith' led by Bishop Vincent Kirabo of Hoima Diocese, I took part in the journey whose theme was '... stand firm in the faith that we have been taught.'(Colossians 2:7).
Starting point
On Saturday morning with a slight drizzle, vibrant voices chanting and singing Uganda Martyrs-themed songs filled the air. The elderly with walking sticks, clad in kitenge, middle-aged young men with babies on their shoulders and, the youth in T-shirts and Jeans strutted with energy. The clergy in black and cream tunics led with other groups of pilgrims who carried banners bearing their dioceses' names.
Their names mentioned and tagged to what they intercede for to God, in song; each martyr intercedes for as particular group of people. Once in a while, the 500 pilgrims above pause as the main celebrant, Archbishop Dr Cyprian Kizito Lwanga encourages the pilgrims to stay focused on the death of the martyrs as they await their blessings before flagging the walk off.
Munyonyo Martyrs Shrine is where the first two martyrs, St Denis Ssebugwawo and St Andrew Kaggwa were persecuted on May 25, 1886 behind the Kabaka's palace.
Maritah Namutebi, 75, a resident of this place describes it as one that has gone through great transformation. She says her early days at the former Kabaka's palace, now a martyr's shrine was characterised with great terror from wild animals and robbers.
"I always feared for my life as I thought someone would kill me since I had just been brought to help in cleaning the church," says Namutebi.
As Bishop Kirabo calls us to order, for the walk to start, Namutebi grips her walking stick, smiles and pronounces her determination to walk the 12Kilometre-journey. She recounts the number of times she has walked the journey and the many blessing that it has come with.
"You know when I was still young it was easier for me but now that I aging, I believe it's going to be difficult but I know God will bless me more. I'm going to walk this whole journey my grandson," Namutebi says.
The first stopover
We got to stopovers at different sites where the martyrs that could not make it to Namugongo (the main martyrdom site) had to be killed. This stopover is where St Pontian Ngondwe was pierced, cut into pieces and thrown to the vultures.
The statue of the martyr stands tall, spear impaled into his chest, bible in one hand and the other cut off. The pilgrims stopped in silence before Bishop Kirabo, whose diocese, presided over the trek led us in a word of prayer. "Our Father, who art in Heaven, Hallowed be thy name... ." After which they chanted the martyr's/ saint's name and asked him to interceed for them. Venerating and saying silent prayers at the feet of the sculpture, some scrambled to touch the martyr in commemoration of his courage in our Lord Jesus Christ.
"This walk is one historic one to me, I'm very happy to be moving under the blood of the martyrs and they set an unbeatable pace for Catholicism and we only have to follow suit as we remember their death," says 34-year-old Catherine Nabukeera a pilgrim. The seven-month pregnant mother says she is not barred by anything when it comes to honouring the martyrs; she holds her back sweating pools but keeps moving as the journey resumes.
Arisen Bakira, 72, a Bukoto resident said he is determined to walk despite his back problem. He says he is inspired to walk because it's through the help of God that he still lives. "I was going to die, but I got a vision at what seemed like my 11th hour of the Chalice(cup) and when I took of it in the vision, I healed immediately and that is why I live to praise Jesus, mother Mary and the martyrs because I would be dead now," narrates Bakira.
It is arguably the most inspirational moment for many Catholics and many take this time to renew their lives and hearts. Benson Kimbugwe, 26, says he is inspired by the walk and he feels his faith growing by the minute and step he takes.
"I'm happy to be walking for my faith, this gives me great joy knowing that God is seeing my act towards those who died for His sake. I even moved with my five- year-old daughter so that she can grow up knowing the essence of the martyrs to our lives and faith as Catholic," says Kimbugwe.
Elderly of faith
Seeming to calculate her every step as her left hand arches her back is Janet Nabukeera, 49. A boda boda comes trying to woo Nabukeera for a ride; she declines and presses on. Before long, she suddenly stops and bends a little, touches her knees and presses them. She gets up and continues to walk with a slight limp.
"This hill is not doing me good," she says as I ask her whether she will persist, "but those martyrs suffered more than 1000 times than myself. They were sure they were going to die what about me? I'm not going to die after all!"
Through Kibuye towards Old Kampala, the songs that had been waning now shoot up, a sign of victory! A group of youths vigorously dance to the Catholic tunes as the elderly can't wait to reach the main gate of St Matia Mulumba Shrine in Old Kampala. We make our way through as the music simultaneously fizzles into the air.
At St. Matia Mulumba Shrine
As the faithful barge the gates to enter and pay their tribute to the sculpture of St Matia Mulumba which stands under a shade holding a bible and candle on either hand, the pilgrims fall at his feet and get engrossed in silent prayers while others just quietly peer at the statue.
As I move around to get a spot to catch my breath, I ran into Malita Namutebi lying on the grass near the gate with her walking stick.
"Muzukulu (grandson), you made it!" she says casting a prolonged stare at me.
"Yes I'm here grandma, how do you feel now?" I ask.
"At Salama Road, I thought I wouldn't reach here but I suddenly got re-energised. I know the martyrs gave me more energy to carry on on," recounts the old woman triumphantly.
"So how do you feel finishing this journey?" I probe.
"Of course with my age, my legs and joints are aching but I know more blessings are on my way and God will be with me as he was with the martyrs.
At St Matia Mulumba, Bishop Kirabo welcomed the faithful and he said mass.
"From today, I encourage you to remain prayerful even after Martyr's Day," he implored.
He announced that the walk of faith would continue at 5am from Matia Mulumba to Namugongo. I chose to go, rest and refresh.