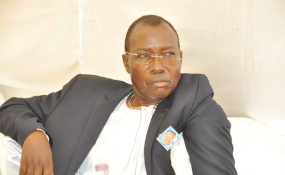 Photo: The Observer
Following revelations that the late educationist Lawrence Mukiibi fathered dozens of children outside wedlock, the Catholic Church has defended their decision to go against their practice and organise a funeral service for him.
The decision, according to some observers, cast the church as hypocritical, given that some church leaders have in the past declined to pray for less well-known Christians who were judged to have failed to uphold the institution's values.
However, Msgr John-Wynand Katende, who led Mukiibi's last funeral service, told The Observer on Saturday that during his last days, the late educationist sought a priest, repented his sins and was given the sacrament of anointing of the sick. Before someone receives this sacrament, they first get that of penance and Holy Communion.
"What we are doing now is a post-mortem, but what Prof Mukiibi actually needs most are our prayers," Msgr Katende said.
Ahead of his burial on Friday, Mukiibi's family paraded at least two dozen children, some barely one year old, who he fathered. Mukiibi, the former director of St Lawrence schools, had no official wife and the church is known for abstaining from conducting funeral services for people known to have had children out of wedlock.
But Msgr Katende says if someone repents their sins, "we should leave judgment only to God."
He cited Psalm 51, which partly reads: "Have mercy on me, O God, according to your unfailing love; according to your great compassion, blot out my transgressions. Wash away all my iniquity and cleanse me from my sin...you are right in your verdict and justified when you judge."
Katende says everyone's role is to pray for Mukiibi to reach heaven.
"Even in the case of St John Paul II, who led a holy life, we had to pray for him for over five years until God showed us that he had reached heaven (through a miracle.) We are not supposed to judge," Msgr Katende said.
During Prof Mukiibi funeral service last week, according to the Daily Monitor newspaper, Kampala Archbishop Cyprian Kizito Lwanga described him as a person of integrity and generosity who always put God first.
"The late was generous and always gave to the needy and underprivileged children in the country. He has been paying fees for the needy at his schools and helped the Church generously whenever we needed help," Archbishop Lwanga reportedly said.
Education minister Janet Museveni also had kind words for Mukiibi: "He taught his students to be true nationalists, loved his government and served it with one heart. He gave free education to the underprivileged and he must be remembered for the good deeds."
PASSING JUDGMENT
In a separate interview, the assistant archdiocesan pastoral coordinator of Kampala archdiocese, Fr Mark Richard Ssajjabbi, reminded Christians of a recent case when Pope Francis was asked about homosexuals and he simply replied; "who am I to judge?"
Dr Ssajjabbi added that people should not judge the church as well.
"We [the church] give people what they deserve. Mr Mukiibi repented and was anointed with the holy oil, a sacrament he deserved," he said.
Fr Ssajjabbi added that before people judge, they should remember two biblical examples.
"We remember an adulterous woman who was brought before Jesus and people wanted to stone her to death, as their customs dictated. Jesus told all present that whoever had never done it should throw the first stone. Did anyone throw a stone?" asked Dr Ssajjabbi.
"They all walked away, one by one, having looked into their hearts and realised they were all sinners. But people today think they are perfect and quickly condemn transgressors without looking into their own hearts."
Fr Ssajjabbi gave the second example of two criminals with whom Jesus was crucified. One of them acknowledged his crimes and asked Jesus to remember him in His kingdom. He added that Jesus duly accepted the man's repentance and promised to sit with him in heaven. Meanwhile, Msgr Katende added that unlike many people, Prof Mukiibi had, at least, done his best to be an active church member.
"It is only those that refuse to repent that we say have sinned against the Holy Spirit," he added, noting that Mukiibi's case only serves as an example for the living to lead upright lives.
HE'S HERO - NADDULI
The minister without portfolio, Hajji Abdul Nadduli, a proponent of large families, said that in his books, Mukiibi had died a hero. According to Nadduli, Mukiibi's decision to give birth to as many children was biblically and culturally justified.
He said a true Muganda man is partly gauged on the number of children. He also quoted the stories of Ibrahim, Isaac and Ismael in the holy books (Bible and Quran), who he said fathered many children. Nadduli noted that in Islam, every child is born with their riziki (luck) and that [luck] of Mukiibi's children was manifest in his wealth.
"We had a man here in Makulubita called Dasan who gave birth to 60 children," he said. "Mukiibi was not a poor man. Do critics think those children are going to go begging to them? No!"
Nadduli, however, urged the administrators of Mukiibi's schools to maintain his legacy such that the children can benefit from their father's sweat. On allegations that Mukiibi preyed on his students, Nadduli said unless there is evidence, this remains hearsay from envious people who always find faults with successful people.
"Some people are blaming the church for giving him a funeral service, but all these revelations [of many children] are coming after his burial," he said. "[Mukiibi] lived a scandal-free life. They say he [slept] with young girls, but how can you confirm that? I haven't heard any parent complain."