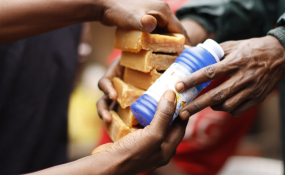 Photo: Nancy Palus/IRIN
Khartoum — The First- Vice President of the Republic, Lt Gen Bakri Hassan Salih on Sunday gave directives to the Ministries of Health and Finance to urgently deal with the requirements for facing the challenges of the watery diarrhea.
The First Vice President and the Federal Prime Minister, LT Gen Bakri, on Sunday received at his office the Minister of Health, Bahar Idris Abu Garda, the Governor of White Nile Dr. Abdul Hameed Musa Kasha, as well as the State Minister for Health
The Minister for Health, Abu Gardah, pointed out in press statement following their meeting with the First Vice President that they have briefed him on the health situation in the White Nile State where, the minister stressed, the water diarrhea cases started dwindling, thanks to concerted efforts at both popular and official levels.
The Minister for Health said the issue of the watery diarrhea required a coordinated strategic action that would involve both environmental health, integrated drinking water station services and provision of clean drinking water.
He said the meeting also discussed preparations for the rainy season ahead and the efforts by the ministries to mobilize all resources with the view to avert any crisis during that season with regards to the watery diarrhea