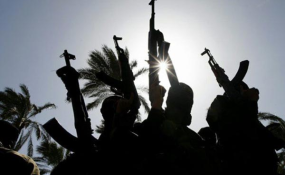 Photo: Daily Monitor
By Amos Ngwomoya
Kampala — It was a moment of joy as two warring factions of South Sudan People's Liberation Army (SPLA) and the SPLA-10 Yei River State signed a peace accord in Kampala to end the on-going armed conflict in Africa's youngest nation.
SPLA-10 Yei River State is one of the rebel groups loyal to former Vice President Riek Machar, who is fighting to depose President Salva Kiir.
The peace accord was mediated by the Evangelical Presbyterian Church leader Bishop Elias Taban Parangi after a four day joint military committee meeting in Kampala.
Daily Monitor has learnt that the meeting focused on permanent ceasefire, an assembly area where armed rebels would assemble and their security, the planned national dialogue and opening of all roads to and out of Yei town- a hotbed of the conflict.
SPLA was represented by Maj. Gen. Marshal Stephen Babanen while SPLA-10 Yei River State was represented by Brig. Hillary Edson Yakani.
Bishop Parangi said it was painful for Africa's youngest nation to be entangled in an armed conflict instead of engaging in development and reconstruction projects.
"This war was uncalled for because there was no valid reason for its occurrence. I know it is being engineered by opportunists who want to satisfy their interests at the expense of thousands of people. However, we pray that the peace agreement between these two warring factions which you have all witnessed be blessed by God and hence peace for our people," Bishop Parangi said.
In the agreement, SPLA and SPLA-10 Yei River State re-affirmed their commitment to continue working together to enhance cooperation and coordination of efforts to end the conflict.
Both parties recognised that there is need for free movement of people, goods and services.
Brig. Yakani said they resolved to encourage the voluntary return of refugees to their homes.
"Today, we are standing here to give assurance to the suffering community of South Sudan that there is a lot of hope, and our being here is to silence guns. This is the end of the clashes and we are coming back with a vision of re-uniting," he said.
In August 2015, President Kiir signed a peace deal with rebels in Juba to resolve the conflict that had paralysed South Sudan since 2013. On the other hand, Dr Machar signed the same accord in Ethiopia.
The signing ceremony was witnessed by Ugandan President Yoweri Museveni, Kenyan President Uhuru Kenyatta and the Prime Minister of Ethiopia Hailemariam Desalegn.
However, Dr Machar violated the peace deal and waged fresh war against President Kiir's government, something that has, to date, intensified anarchy in South Sudan.
Gen Babanen said that SPLA has been, and will always welcome rebels so as to re-unite the people of South Sudan.
"From today, we have ceased fire and we would like to thank SPLA-10 Yei River State for showing a good gesture. Let's build our country into a greater nation that will benefit not only our people but also the neighbouring countries," he said.
The South Sudan envoy to Uganda Samuel Lowate said that the eruption of conflict in South Sudan after independence only makes the country backward.
"I know there is no easy walk to freedom but I am glad that we have harvested the fruits of our mediation today. I strongly believe in the almighty God that our country will regain peace and suffering shall be no more," he said.