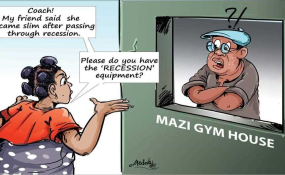 Photo: Daily Trust
By Oladeinde Olawoyin
South Africa has entered recession for the first time in eight years, data from Statistics South Africa showed on Tuesday.
Data from Statistics South Africa in Pretoria showed the first quarter contraction was led by weak manufacturing and trade.
The data showed that South Africa's economy contracted by 0.7 per cent in the first three months of 2017 after shrinking by 0.3 per cent in the fourth quarter of last year
The worst performing sector was trade, catering and accommodation, which contracted by 5.9 per cent, while manufacturing - one of the key sectors - fell by 3.7 per cent.
Standard Chartered Bank's Chief Africa Economist Razia Khan said the "awful" data showed weakness where it was not expected.
The value of the rand fell by 1 per cent on the currency markets, the BBC reported Tuesday afternoon, adding that analysts had expected GDP to grow by 0.9 per cent during the first quarter.
Commenting on the development, Joe de Beer, deputy director general of Statistics South Africa, said: "We can now pronounce that the economy is in recession."
"The major industries that contracted in the economy were the trade and manufacturing sectors,"he added.
Analysts said the contraction suggested high unemployment and stagnant wages were dragging down South Africa's long-resilient consumer sector.
"The slowdown in first quarter was due to much worse results from usually stable consumer-facing sectors that had been the key drivers of growth in recent years," Capital Economics Africa economist John Ashbourne said.
Political instability, high unemployment and credit ratings downgrades have dented business and consumer confidence in South Africa and the rand extended its losses against the dollar, while government bonds also weakened.
Pressure on President Jacob Zuma, including from within the ANC, has risen since a controversial cabinet reshuffle in March that led to downgrades to "junk" status by S&P Global Ratings and Fitch.
Zuma has denied any wrongdoing over the allegations.
Corruption allegations escalated when local media reported this week on more than 100,000 leaked emails they say show inappropriate interference in lucrative tenders.
"Our economy is now in tatters as a direct result of an ANC government which is corrupt to the core and has no plan for our economy," Mmusi Maimane, the leader of the opposition Democratic Alliance said.
South Africa's Treasury said it would work to finalise policies critical for boosting confidence and economic growth.
The Nigerian economy has been in recession since 2016 with analysts forecasting the West African country will be out of recession by the third quarter of 2017.
Nigeria and South Africa are two of Africa's largest economies.