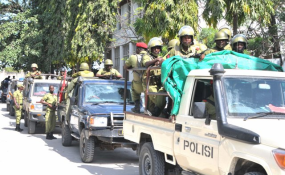 Photo: Daily News
By Azory Gwanda
Rufiji — Unidentified gunmen shot dead a militiaman in Rufiji District on the eve of a visit by newly appointed Inspector General of Police (IGP) Simon Sirro to launch a new approach to end a spate of mysterious killings, which target local leaders and the police.
The killing of Mr Erick Mwarabu, 37, has brought to a total of 33 people, who have been killed in cold blood since January 2015.
Mr Sirro vowed shortly after he was sworn in at the State House in Dar es Salaam last week to wipe out the killers, who continued the killings in Rufiji, Mkuranga and Kilwa districts, which are said to have prompted President John Magufuli to fire Mr Sirro's predecessor Ernest Mangu.
With the latest incident, the killers have sent a clear message to the top cop that they are still capable of executing people anytime and anywhere. It also explains the price Mr Sirro will have to pay to end terror in those areas.
Yesterday's killings happened few hours before Mr Sirro arrived in Rufiji on a request of the residents to find ways of ending the killings that have devastated the districts and disrupted socio-economic conditions.
Reports from Rufiji say the gunmen arrived at Mr Mwarabus's house around 3am and broke into his house through the main door. A neighbour told The Citizen that after breaking the door they went straight to his bedroom and found his wife and inquired about the whereabouts of her husband. Seeing that the wife was reluctant to cooperate they started going room after room in search of Mr Mwarabu before finally finding him hiding under the bed.
"The assailants shot him three times and fled to unknown destination without taking any property from him," he noted. A medical officer-in-charge at Ikwiriri Health Centre, Dr Iddy Malinda, said Mr Mwarabu was shot twice in his chest and once in the mouth through which the bullets damaged his head. Coast Regional Police Commander Onesmo Lyanga said the police were investigating the incident. Mr Mwarabu is the 33rd person to be killed by unidentified gunmen, who have been issuing warnings that they will continue executing leaders they accuse of harassing people and injustice. Among those killed includes 11 police officers.
The killers have in several incidents uttered verbal warnings or left notices at crime scenes, stating why they will continue with the killings.
Unidentified gunmen have been have sent people of the area in great fear and panic over who would be the next target of the killers.
With the police looking clueless as to who exactly are executing the killings and what the motive is, local government leaders have abandoned offices and their houses and went into hiding with their families for fear of the assailants. The police have also been blamed for using excessive force and sometimes turning brutal as they hunt for the culprits.
Investigation by The Citizen shows that insecurity has paralysed local government and economic activities, bringing to a standstill health services, education, trade and transport services in Coast Region districts.