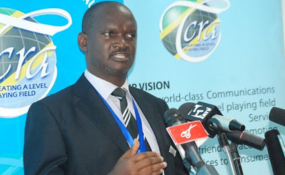 Photo: Daily News
By Betram Lengama
The overnment has urged religious leaders to encourage people on positive utilisation of social networks services (SNS) for socio-economic and religious benefit and development.
The call was made by the Minister for Works, Transport and Communications, Professor Makame Mbarawa, during Iftar on Monday evening organised in Dar es Salaam by the Tanzania Communication Regulatory Authority (TCRA) in collaboration with the Dar es Salaam Regional Peace Committee.
Prof Mbarawa said social networks which is the product of the great advancement of communication technology is prolific and useful for the growth of the nation's economy as well as maintaining peace and security if constructively utilised. However, he said, it is very dangerous if utilised negatively.
He cited an example of the negative utilisation of the social networks service which resulted in chaos and coup in Egypt in 2011. This was the result of a message wrote in Facebook and circulated to millions of Egyptian protesters who went into the streets to protest - a situation that culminated in the overthrow of President Hosni Mubarak.
The minister therefore requested religious leaders to assist the government in addressing the challenges wrought by the development of the communication technology, by counselling their followers through their religious teachings on how to constructively utilise the social networks.
"Communication technology advancement is like a machete. If positively used you benefit from it but vice versa to that it will bring disaster. So, whenever the social media are negatively utilised, the damage will see people or the nation regretting. So we have to act early and fast before we regret," he explained.
The minister further asked TCRA to arrange a seminar involving the religious leaders to discuss the challenges of social networks as the issue is crucial. He warned that if social networks are left to be negatively utilised it might result in breach of peace.
On his side the Chairman of the Dar es Salaam region Peace Committee, Sheikh Alhad Mussa Salum said the committee had done much in ensuring peace and harmony is maintained in the region and the country in general.
Sheikh Salum reminded Muslims that the holy month of Ramadhan brings unity among people of different faiths and also for Muslims it is the period during which they communicate and come closer to Almighty God as well building trust.
TCRA Director General Engineer James Kilaba said the communication technology advancement has came with various challenges which need to be curbed or resolved.
Eng Kilaba supported the minister's move on constructive use of social networks which goes hand in hand with the nation's values.
The Dar es Salaam region peace committee which is among TCRA stakeholders comprises religious leaders from various religion sects in the region.