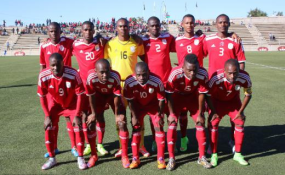 Photo: The Namibian
By Sheefeni Nikodemus
Brave Warriors captain Ronald Ketjijere is determined to successfully lead his side at the 2019 Africa Cup of Nations, which could be the defining moment of his career.
Namibia is seeking a third appearance at the continent's premier football tournament, for which qualification starts this weekend.
In an interview with the Namibia Football Association (NFA) website on Monday, Ketjijere said the 2019 Afcon in Cameroon is a last opportunity to represent his country at a major football event.
He is arguably the country's most successful skipper to date, having led the Brave Warriors to their first-ever international triumph when they clinched the 2015 Cosafa Castle Cup.
While he has cemented his place in local football folklore with that achievement, Ketjijere is desperate to compete against the continent's top teams at an Afcon in his swansong.
"I'm 29, and will turn 30 in December. I'm not getting any younger, so I believe these Afcon qualifiers will be my last, and I would love to make it to the actual finals. Before I hang up my boots, I need to play in a major international tournament, and the Afcon is within reach at the moment," said the midfielder, who has represented Namibia on 44 occasions, which puts him joint-11th on the all-time caps list, along with Jamunovandu Ngatjizeko, Willem Mwedihanga and Petrus Shitembi.
Ketjijere made his debut for the Brave Warriors against Botswana in 2010, but it was only the following year that he became a regular first-choice selection to the squad.
Then-national coach Brian Isaacs appointed him captain in only his sixth match, and he made a winning start with a 1-0 away victory against Malawi in a friendly match.
His leadership in those early matches was what allowed him to cement his hold on the captaincy, going on to skipper the country 38 times.
Despite the team's well-documented shortcomings, primarily the lack of match fitness leading up to the first encounter away to Guinea-Bissau in Conakry on Saturday, Ketjijere is confident that they will do well and take a step closer to reaching Cameroon 2019.
"We cannot use the inactivity of our league as an excuse. We have a lot of foreign-based players who will also take these qualifiers seriously due to their age as well. We have a good chance of qualification, more than ever," said Ketjijere, who will only link up with the squad at the end of the week due to study commitments.
The Brave Warriors are also competing against Zambia and Mozambique in Group K.
"On paper and on recent form against these teams, with the exception of Guinea-Bissau, they are beatable, and we need to keep the focus," said Ketjijere, who returned home to African Stars at the end of last season after turning out for Pretoria University in the South African Premier Soccer League from 2012.
"We made history by winning Cosafa, and now we can strive to qualify for Afcon as well," he enthused.
The Brave Warriors have set up camp in Accra, Ghana, where they have played a series of warm-up matches since Thursday, and will leave for Guinea-Bissau tomorrow.
The squad is: Goalkeepers - Virgil Vries, Maximillian Mbaeva;
Defenders - Willem Mwedihanga, Tiberius Lombard, Chris Katjiukua, Ferdinand Karongee, Riaan Hanamub, Ananias Gebhardt, Larry Horaeb, Edmund Kambanda;
Midfielders - Ronald Ketjijere (captain), Denzil Haoseb, Oswaldo Xamseb, Dynamo Fredericks, Wangu Gome, Benyamin Nenkavu, Deon Hotto, Petrus Shitembi, Absalom Iimbondi;
Strikers - Benson Shilongo, Itamunua Keimuine, Hendrick Somaeb, Peter Shalulile and Roger Katjiteo.