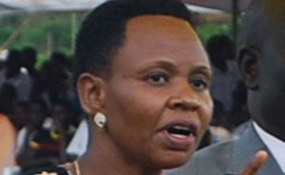 Photo: Daily Monitor
By Ivan Okuda
President Museveni has sent his personal assistant Maj Edith Nakalema for a one year senior command and staff course at London-based Shrivenham Defence Academy, in a move sources say; is intended to "diffuse tension and frosty work relations" at the country's seat of power, Daily Monitor has learnt.
Maj Nakalema is the only officer of the Uganda People's Defence Forces (UPDF) leaves in to undertake the course.
The development comes less than a year after the president appointed her his personal assistant having served as his private secretary on recommendation from Special Forces Command (SFC).
UPDF spokesman Brig. Richard Karemire confirmed the president's once all powerful aide's move to the UK academy.
"It is a command and Staff Course aimed at preparing officers to take on future Command and Staff Officers' roles in the UPDF. I congratulate her for her being selected as this will help her grow in her career and also will strengthen the UPDF professionalization," Brig Karemire said.
Brig Karemire said the course is equivalent to the one conducted at Jinja district based Staff College, Kimaka.
Presidential Press Secretary Mr Don Wanyama told this reporter; "Maj. Nakalema has been due for a senior course and training and the prestigious military academy she has been selected to go to is what any serious soldier would love to have. She will also pursue her graduate studies at King's College London. The PPS on the other hand remains executing her duties diligently."
Before Ms Molly Kamukama was appointed principal private secretary to the president, Maj. Nakalema wielded solid influence at State House, almost overshadowing immediate former PPS Ms Mary Amajo who was reportedly reduced to a figure head.
Appearing on Capital FM's Capital Gang talk show last year, the president confessed having no control of his itinerary.
"There is a lady there called Nakalema. If you want to see me you talk to her," he said.
The president's statement on the show affirmed the upper hand Maj. Nakalema had in running affairs at State House.
In November last year, the president appointed Ms Kamukama, who served as his political assistant in the Mbuya- based Office of the NRM chairman during the 2016 general election campaign PPS and handed Maj Nakalema the personal assistant docket.