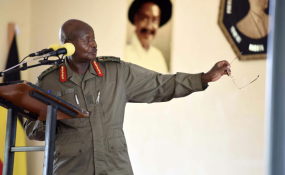 Photo: Daily Monitor
opinion
By Nelson Musoba
On Tuesday, June 6, President Museveni launched a 5-Point plan on fast-tracking ongoing efforts to end HIV/Aids as a public health threat in Uganda by 2030. This is a crucial intervention by the President at a time when the country is on course towards achieving set targets.
For example, for the first time in about six years, the number of babies being born with HIV has dropped from 28,000 in 2011 to about 3,000 currently. This is a clear indication that if current efforts are fast-tracked, the possibility of an HIV-free generation is here with us.
This time round, President Museveni in his new term of office has sounded a commitment - Kisanja Hakuna Mchezo - translated as the term of no playing games. This 5-Point Plan illustrates the President's commitment to re-invigorate a more focused, aggressive and urgent momentum towards achieving control of the epidemic in Uganda. With dedicated and more focused leadership, the initiative aims to engender a renewed country focus to ensure Uganda drastically reduces new infections (particularly among young women and girls).
Revitalise HIV Prevention - close the tap on new infections, particularly among girls and young women. Uganda registered 83,000 new infections by the end of 2015. This translates to 227 new infections per day. To this end, the President will galvanise religious and cultural leaders to address what are now crisis-level sexual and reproductive health risks among young people and in particular, young women and girls.
The focus will be to empower them with evidence-based knowledge, skills and services required to stay HIV-free and to address teenage pregnancies.
Consolidate progress on eliminating mother-to-child transmission of HIV. Today, nine in 10 HIV positive women who require to be on treatment are receiving it and new infections in children have dropped drastically from 30,000 a year in 2010 to 3,100 by the end of 2015.
This is a "good news story" in Uganda's efforts in the HIV/Aids response that should be maintained. It demonstrated that fast-tracking is possible. To this end, the President is committed to consolidating progress to ensure that no child is born with HIV in Uganda by bolstering ongoing efforts by the office of the First Lady.
Accelerate implementation of "Test and Treat" and Attain 90.90.90. Currently, it is estimated that 1.5 million people are living with HIV in Uganda. Out of these, 1.2 million people are already under care and know their positive HIV status. Thus the country needs to accelerate HIV testing in order to identify the approximately 300,000 HIV positive individuals who are still unidentified.
In this regard, the president will also ensure that with demand having been generated that the Ministry of Health will ensure: there is zero stock out of HIV test kits in the country.
Address financing sustainability for the HIV response.
Uganda currently relies heavily on the generous support of development partners for its HIV response. Given this situation, the President will support all efforts to expedite implementation of the Aids Trust Fund, an initiative that will lead Uganda to generate domestic resources for the HIV response on a national scale.
Ensure institutional effectiveness for a multi-sectoral response. The establishment of this "Presidential 5-Point Plan" is expected to foster stronger multi sectorial action and accountability and ensure a "fit for purpose" HIV and Aids coordination architecture that can drive Uganda to the end of Aids by 2030.
To this end, the President will ensure a re-alignment and re-positioning of a stronger Uganda Aids Commission that is better empowered to ensure all actors/sectors account for their individual and collective responsibilities in line with the National Strategic Plan.
For the detailed presidential fast-track initiative on ending HIV/Aids in Uganda by 2030. Please visit the UAC website.
Dr Musoba is the Ag Director General, Uganda Aids Commission.