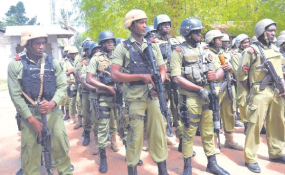 Photo: The Citizen
By Azory Gwanda
Rufuji — Unidentified gunmen have on Wednesday noon shot in the head a militiaman in Ikwiriri District.
Mr Nurdin Kisinga (33) was attacked in a broad daylight as he was attending his farm alongside his two sons. The bullet struck him through the back of his head, and the attackers waste no time in disappearing into a thin air.
His sons then cried for help before a neighbour picked the victim with a bicycle to a nearby main road and driven to to Michukwi hospital where he is receiving treatment.
The attack comes just a day after Inspector General of Police (IGP) toured the area and held talks with local elders on how to arrest a spate of attacks which have so far claimed 33 lives. Hours before the arrival of IGP Sirro the merciless killers gunned down another militiaman in Ikwiriri Mr Erick Mwarabu.