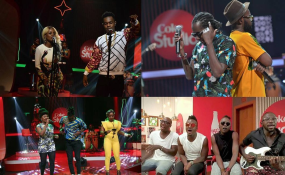 Photo: Coke Studio Africa
By Edgar R. Batte
Before 2014, nothing much was known about singer Ykee Benda. His friends and family knew him as Wycliff Tumuge but it's no more. Then he walked into Badi Music Studio in November 2015.
His professional interaction with producer Nessim gave birth to the popular song Farmer, which could have been just another song but when he remixed it with one of the top female artistes, Sheebah Karungi, it gained a lease of fresh life and vibes, and earned him fame and stardom.
"Farmer, the original got me management while the remix broke me through to the rest of Uganda," he told SQoop magazine, a sister publication of Daily Monitor in a January interview. You might want to know that before that, five years before, he had started his search for stardom.
On Monday, Coke Studio Africa, a convergence of a diverse number of prominent African artists, announced that Benda is one of the artistes from Uganda that will be gracing their 2017 line-up. He will be meeting Sheebah Karungi again, this time on a continental stage.
"It's a big step in my young career. Now the whole of Africa and some parts of the rest of the world will get to watch me and what I have to offer," he told this reporter.
The 26-year-old believes in Coke Studio Africa, is where everything big is going to begin from, as far as his music career is concerned.
"It is a good opportunity to interact and learn from the best and move another step closer to the big guns," an optimistic Benda envisions.
But Benda is not the only euphoric local artistes listed on the 2017 edition. Bebe Cool says that it has been a long time coming, and in his words, the timing couldn't have been better.
"It is a good feeling. I have always wanted to go in for the Coke Studio experience. It is a special time when I am working with Africa artistes. Working with more African artistes that Africa knows is going to make sense for my music career," Bebe Cool excitedly explains.
It will be singer Eddie Kenzo's second time in the Coke Studio. "It is a great feeling being selected again, in Coke Studio. You know it is all about uniting Africa and it is always a good feeling to be part of such a great cause," he says.
Talking about his experience in the musical studio, Kenzo adds, "In coke studio, you get to meet almost all of Africa. You meet different cultures from different corners of the continent and being selected again isn't an easy thing. It also means I did good last year."
The Coca-Cola Company, through their music flagship show Coke Studio, has merged Coke Studio Africa and Coke Studio South Africa into one, bigger, better Coke Studio Africa 2017.
The merger increases the number of participating countries to 16, up from 11 in previous edition. This season will broadcast in more than 30 countries across Africa.
The production now includes artistes from South Africa, Rwanda, Angola, Zimbabwe, Togo, Madagascar, Mauritius, Kenya, Uganda, Tanzania, Nigeria, Ghana, Mozambique, DRC, Ethiopia and Cameroon.
The last edition featured Kenya, Uganda, Tanzania, Nigeria, Ghana, Mozambique, DRC, Ethiopia, Cameroon, Cote d' Ivoire, & Togo whilst South Africa had its own production.