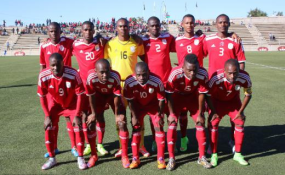 Photo: The Namibian
Windhoek — As action gets underway in earnest in the 2019 African Cup of Nations (Afcon) Qualifiers this weekend, inspirational Brave Warriors captain Stigga Ketjijere is determined to propel Namibia to its third appearance at the continental showpiece.
The former University of Pretoria (Amatuks) holding midfielder skippered the Namibia amateurs to their maiden victory in the 2015 edition of the annual Cosafa Castle Cup - the first title of its kind for Namibia.
The law graduate, who has since cemented his place in local football folklore, wants to make the Afcon his swansong before bowing out of the game.
His footballing career took him across the Orange River to ply his trade in Africa's richest football league, the South African Premier Soccer League (PSL).
The much adored, hard tackling Okakarara-born midfield kingpin gave a hint that this might be his last appearance in Afcon Qualifiers, saying the team needs to do well to have any hope of reaching the finals in Cameroon in 2019.
" I'm turning 30 in December this year, I'm not getting any younger, so for now I believe these Afcon qualifiers will be my last, and I would dearly love to make it to the actual stage (the finals).
"My wish is to feature in a major international tournament and the Afcon is within reach before I call it quits," he said.
However, he is fully aware of the danger posed by the teams the Warriors will compete against in Group K.
Group K includes Zambia, Mozambique and Guinea Bissau, but he reckons they are beatable and strongly believes Namibia stands a good chance of reaching the finals.
"On paper and on our recent form against these teams, apart from Guinea Bissau, they are certainly beatable, but we must just keep focus. We cannot use the inactiveness of our domestic league as an excuse
"We have a lot of foreign-based players, whom I believe also share my sentiment of taking these qualifiers seriously, as they are also entering the twilight of their football careers," he continued.
The African Stars blue-eyed boy is adamant Namibia definitely has a good chance. In fact, he sees these qualifications as presenting a better chance than ever.
"We made history by winning the Cosafa Cup and now we can surely strive to qualify for Afcon as a group," he added.