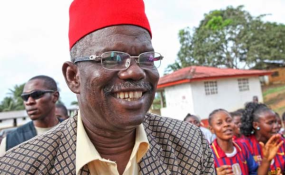 Photo: The New Dawn
By Lennart Dodoo
Monrovia — Nimba County Senator, Prince Y. Johnson, has linked FrontPageAfrica's recent report that there are federal agents in the country gathering evidence that might lead to his arrest for allegedly killing an American woman during the civil war to intimidation tactics allegedly plotted by Washington in concert with Dr. Allan White and Benoni Urey to have him support Urey in the upcoming elections.
"We were able to meet two white guys, one was Dr. Alan White and another guy and they introduced themselves as the lobbyist for Benoni Urey, but the way they said it was Washington wants Benoni Urey to be the next President since Donald Trump is a businessman so they want me to work with Urey" - Prince Y. Johnson, Senator, Nimba County
In a press conference shortly upon his return from Nigeria on Thursday, Senator Johnson disclosed that he had been confronted by Dr. Allan White who served as the chief investigator for the UN-backed special court for Sierra Leone and another white man only identified as Jeff in Accra, Ghana on the arrangement of one Alex Whapoe who is based in the United States.
According to Senator Johnson, Dr. White disclosed to him that Washington was interested in making Urey Liberia's next President because U.S. President Donald Trump is also a businessman.
"We were able to meet two white guys, one was Dr. Alan White and another guy and they introduced themselves as the lobbyist for Benoni Urey, but the way they said it Washington wants Benoni Urey to be the next President since Donald Trump is a businessman so they want me to work with Urey," Johnson said.
The presidential hopeful disclosed that Dr. White said to him that the United States intends establishing war crimes court in Liberia, but would only prosecute cases beginning from 1995 purposely to exclude him from prosecution should he agree to support Urey of the All Liberian Party (ALP).
"I said, Dr. White if you have war crimes court coming and I committed war crimes, why should I be exempted?
Let it come, let everybody be involved. But I don't think what you are telling me is true and don't use intimidation tactics to get me to succumb.
"If Washington wants Mr. Urey why is he still on the State Department travel ban list?" Senator Johnson said.
According to Senator Johnson, the following day Mr. Urey along with Dr. White went to see him at the hotel again where they asked him to consummate an agreement.
He noted that he refused to sign the agreement because he was told by Whapoe he was coming to Accra to discuss business, not politics.
Johnson disclosed that Whapoe then came to meet him in Liberia upon his return reiterating that America was interested in Urey.
"I said, Whapoe, are you still interested in minority rule in this country?
Since you want us to form a coalition, I agree to form the coalition, but as to who is going to head the coalition would be something the technical team would decide - that was why we came up with that coalition and they drafted it, not my people.
He further explained that upon his refusal to succumb as running mate to Urey, he received a call from Dr. White who told him that his refusal to accept to be vice standard bearer of the coalition is the extreme.
Johnson: "When I finally told them that I'll not support them Whapoe told me, 'You have betrayed the people and they can do anything anyhow."
"I said Whapoe you've been threatening me with war crimes court - how they will bring war crimes court from '95, it will not be '92 because I left from here '92, it's not my concern. Bring your war crimes court."
"But this is not the work of Allan, this is the work of Urey and his group. The Americans would not do foolish things like this."
"As a business man, I know they've been lying to them over there that he's so popular in the country, they've been presenting a false picture of Urey there and Alex Whapoe is one of those."
Senator Johnson indicated that the publication on his alleged involvement in the murder of Hladini devi dasi originally named Linda Jury from Michigan, United States.
She was one of the renowned devotees of Hare Krishna was a fabrication intended to have him join Urey's ALP out of fear that Unity Party's Joseph Boakai would win the elections, should he gain his [Johnson's] support.
FrontPage Africa was tipped that investigators were in the country gathering evidence and taking testimonies from eye witnesses for an indictment that would lead to his arrest.
An intelligence source told this paper so far about six eye witnesses have given testimonies into Sen. Johnson's alleged killing of Hladini.
"This case has been pending for a very long time now."
"The State of Michigan does not have any statute of limitation, therefore, a lot of people--even Johnson--may have forgotten about this incident but the State hasn't. He will be prosecuted," the source said.
According to our source, the agents are still locating more witnesses of the gruesome murder.
"Prince Johnson may not get away with this one. After sufficient evidence is gathered on this matter, an indictment would be drawn against him and he would be arrested for prosecution in the States," the highly placed intelligence source added.
The death squad, believed to be controlled by Johnson, arrived at the Hare Krishna temple in Monrovia in the early morning hours of October 3, 1990, and ordered the devotees to come out. Seven devotees, five men, and two women, exited the temple and filed into the waiting jeep.
They were driven to Stockton Creek, where the devotees were forced out at gunpoint and herded onto the sand next to the river.
The leader announced that only the men would be killed. Thus Hladini, a woman, knew she would not be killed.
According to reports, as the leader [Johnson] raised his weapon to fire the first execution volley, Hladini leaped forward and attacked him with her bare hands.
She shouted: "How dare you kill the devotees of Krishna? Better you kill me than kill them!" Hladini was the first to be shot.
Hladini arrived in Monrovia in 1990 when the country was entrenched in a fratricidal civil conflict.
The warlords of the several rivaling parties were fighting for power, while there was widespread starvation amongst the people. Seeing the suffering of the people, the devotees of the Hare Krishna temple in Monrovia approached the warlords and arranged to start a Food for Life program.
Johnson controlled Monrovia at the time agreed to the proposal and the devotees began the free food distribution program. Johnson visited the temple more than once and received a religious welcome.
As the war intensified, the US government ordered all US citizens to evacuate the country.
Hladini had to decide whether to stay in Monrovia or return to safety in Nigeria. True to her nature, Hladini's compassion and mercy for others outweighed any concern she had for her own safety.
She opted to stay. Hladini was the only senior devotee in Monrovia, and her presence gave solace to the native African devotees who could not leave.
On June 14, 1990, Hladini wrote in a letter to Radhanath Swami, a friend:
"[T]here is never a dull moment. Now I'm stranded in Liberia in the middle of a war to overthrow the government."
"The airport has been seized and they asked all Americans and foreigners to leave the country immediately.
American marines sent 6 battleships and 2000 Marines to evacuate the citizens. I'm just going to assist the devotees through the hard times.
There's scarcity of food as all the roads are blocked and no supplies can come in.
150,000 people fled the country in the last few weeks. Every day at least 10 people get beheaded and the rebels are still 35 miles from the city . . ."
She decided to write Johnson and his men a letter, asking him to stop killing people, according to the account.
Accordingly, Johnson was angered by the letter. A well-wisher passed a message to the devotees that Johnson was likely to get rid of them.
At that time, it was too late to leave the temple and take shelter elsewhere, as many of the buildings in the area were either destroyed or being controlled by Johnson's troops.
The devotees stayed at the temple and left their fate in the hands of Lord Krishna.
The death squad arrived in the early morning hours. Johnson and his men carried away by jeep the seven devotees who had been captured.
Two devotees managed to escape through the back door and climb up trees to take cover. Suddenly, those two devotees heard gunshots from the direction of the bridge.
They saw that the captured devotees were being shot by Johnson's men. At daybreak, they came down from the tree.
Instead of going to the temple, they walked to the river where they saw Hladini's sari floating on the water. Hladini and five male devotees become martyrs of the Liberian War. Hladini was the first one shot.
"When we heard in New Vrindaban that there had been a coup in Liberia and Hladini was trapped, the whole community came together at the Palace of Gold and prayed," remembers Manasa Ganga.
"When we heard Haldini had been killed, it was a huge shock."
"We held a memorial service and everyone came because she was one of the most loved devotees in the community. She always had a smile on her face and she was always ready to help out.
"Nothing was ever a bother," said Manasa Ganga with a sad smile.
"For Hladini, taking care of others was always a pleasure. That's what she gave her life for - taking care of others."
It is, however, not clear how early the Grand Jury of Michigan would come up with an indictment against Sen. Johnson, but sources say as such may be done immediately after the return of the federal agents.
Johnson has become a prelate himself. "Invite me your church," he bragged at his overwhelmingly attended TRC appearance, "and the Holy Spirit will fill it.
He told his congregation in 2015 sermon aired on Fabric Radio 101.1 FM that he had received a revelation from God telling him to inform President Ellen Johnson Sirleaf to implement audit reports, not the TRC recommendations.
Willie N. Tokpa contributed to this story