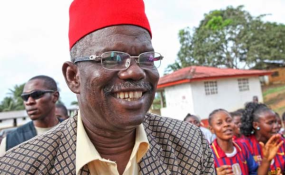 Photo: The New Dawn
By Willie N. Tokpah
Monrovia — Nimba County Senator Prince Y. Johnson says he would rather support Vice President Joseph Boakai because he represents the majority of Liberia's population.
Vice President Boakai who is opting to succeed his boss come October elections has been receiving endorsements from cross sections of Liberians in recent weeks with the latest being Senator Johnson.
Senator Johnson bashed at his critics who have frowned at his recent interaction with VP Boakai in the midst of dialogues for possible collaboration with businessman Benoni Urey.
"They fear that when I will join Boakai and [there's] nothing wrong with joining Boakai, that's my oldman we will defeat those people who want to suppress this oldman," Senator Johnson asserted.
Addressing a team of media practitioners Wednesday at his Duport Road residence in Paynesville, Senator Johnson noted that a Boakai presidency would put an end to the long rule of 'minority rule', thus providing the chance for native Liberians to have a feel of the presidency.
He reemphasized calls to residents of his county not to vote a 'minority leader' as President, including Charles Brumskine and Benoni Urey.
"These minority leaders" he said, "has made no impact to Liberia's growth and development" and that it was now time for the native to rule.
Sen. Johnson, however, described as frustrating for the minority to continuously take the big jobs in the country while those who have the popular vote continue to live in poverty.
The Nimba County Senator has named the pending October elections as the gateway for a possible majority rule, promising to campaign in winning the popular vote from the minority.
"Cars cannot vote. I can never look at a 'country-man', a 'majority' and go against him because when the man of God was telling me the road is open go, I said no. I am a native and a majority, the old man, too, is a majority; I don't want to challenge him for the vote to divide," Senator Johnson intoned.
Sen. Johnson further stated that his decision was prophesized by renowned Nigeria preacher TB Joshua during a recent visit to Nigeria.
"He asked me what his name is and I told him. He said nothing bad, but go and work with him, there is no secret here this is a political season," Sen. Johnson stated.