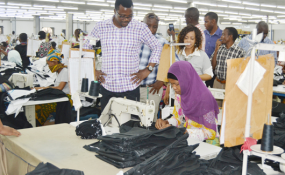 Photo: The Citizen
By Njiraini Muchira
The East African Community has developed an ambitious industrialisation policy to promote the manufacturing sector, which is expected to account for 25 per cent of the regional GDP -- up from 10 per cent -- by 2032.
Anchored in value addition and product diversification, the policy shift is expected to ease the dependence on agriculture and increase the value of manufactured exports to at least 40 per cent, up from the current eight per cent.
"The EAC industrialisation strategy and its action plan must guide all our policy actions and deliver results," said Rwandan Prime Minister Anastase Makuza, during the Second East African Manufacturing Business Summit in Kigali.
Over the period, 2006 remains the best performing year, when manufacturing sector growth peaked of 8.2 per cent before crumbling to a low of 1.4 per cent in 2012 and recovering in 2015 to 5.7 per cent. In 2016, its growth shrank to 4.7 per cent.
Competition
Of note is that while the growth of manufacturing in the EAC is higher than the sub-Sahara Africa average of 4.3 per cent, it is significantly lower than that of the West African economic bloc that stands at 8.7 per cent and Ethiopia whose sector is expanding at a rate of 9.6 per cent.
"The growth of the EAC manufacturing sector is not sufficient to create structural transformation or to reach ambitious industrialisation targets," said Ruth Pollak, research and industrial policy advisor at the United Nations Industrial Development Organisation.
Ms Pollak added that although the EAC intra-regional manufacturing trade is on the rise, it is expanding at a much slower pace compared with other regions in Africa.
Over the period 2010 to 2014, EAC intra-regional trade grew by only two per cent yet the Southern Africa Development Community (excluding South Africa and Tanzania) expanded by a staggering 27 per cent while the Economic Community of West African States grew by 15 per cent. North Africa (excluding Libya) recorded a growth of seven per cent.
Falling market
The slow growth in East Africa is attributed mainly to the fact that the region is fast losing control of its own dynamic market of 160 million people to China, India, Japan and lately Malaysia.
In 2014, China was the leading supplier of manufactured goods to the EAC with exports valued at $9.3 billion followed by India at $8.7 billion and Japan at $1.4 billion. The value of EAC manufactured goods stood at $1.9 billion.
Lilian Awinja , East Africa Business Council executive director expressed that the region to become a middle income economy, and achieving industrialisation by the year 2032, the manufacturing sector needs a conducive environment to grow, prosper and become competitive within and outside the region.
The reality, however, is that due to high cost of doing business, macroeconomic instability and influx of imports, export of manufactured goods remain low despite the EAC having the highest demand for manufactured products in Africa.
Over the past 15 years, the EAC has achieved little success in manufacturing diversification, with the main products remaining petroleum, cement and construction material, paper, fertiliser, pharmaceuticals, alcoholic beverages, textiles, crude vegetable oil, iron and steel bars/rods and plastics.
With China, India, Malaysia, Indonesia and others manufacturing these products and exporting at cheaper prices, industries in the EAC are feeling the competitive heat.
This is evident from the fact that the compounded annual growth rate of products like petroleum oils between 2010 and 2014 declined by an average of 29 per cent.