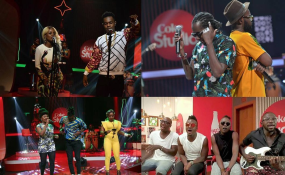 Photo: Coke Studio Africa
By Paul Owere
Dar es Salaam — Coke Studio is here and as usual the expectation is rather high especially after the dissolution of the different blocks to form one Pan- African entity.
Celebrity names have already been lined up and the setting in Nairobi is abuzz with musical activities as stars both local and international look forward to set their best foot forward.
To add the sparkle American RnB singer Jason Derulo has been lined up in what has become a tradition at the Pan-African music show.
This show has already shown the kind of potential and influence it has on the continent's music with several collaborations being born out of this franchaise.
In 2014 Coke Studio Africa saw the legendary Wyclef Jean take the stage and light up households with the unforgettable 'Divine Sorrow'.
Whereas in 2015 RnB super star NE-YO took Peace One Day to Rwanda and delivered a Coke Studio original song 'Reason'.
In 2016 the show brought in Trey Songz who set the stage on fire with his dynamic presence and now, in 2017 Coke Studio brings Jason Derulo.
He is considered a new-school, multi talented creative giant who has sold over 50 million singles and impressively achieved 11 platinum singles.
His best selling songs include 'Wiggle', 'Whatcha' Say', 'Talk Dirty', 'It Girl', 'In My Head', 'Trumpets' and 'Marry Me'.
The show which claims to be bigger and better after the merger has confirmed that Jason Derulo who is this year's guest star will feature on a special episode themed the Global Fusion Edition!
The American Pop,RnB singer and dancer who is currently riding high with his latest banger 'Swalla' arrived this week to participate in the recording sessions which are already underway.
Bridging the barriers
Coke Studio was first aired in Brazil in 2007 and was adapted a year later in Pakistan, which pioneered the musical fusion concept that has reshaped popular culture and inspired an international franchise.
The innovative format - which has been scaled to India, the Middle East and, most recently, Africa - combines Pakistan's myriad musical influences, from eastern classical and folk, to contemporary hip-hop, rock and pop.
According to organisers this boundary-blending combination of traditional and modern sets Coke Studio apart from other branded music programmess.
"By creating a new genre of music, we are touching generations of people across Africa and around the world," says a source in Nairobi.
In addition to providing a welcomed source of entertainment, Coke Studio shines a positive spotlight on a continent that is burdened by negative headlines.
For the past three years Coke Studio has brought together both well-known and up-and-coming artistes a platform to share their music with national and international audiences.
Last year while at the recording of the third edition Joh Makini told the beat that with the fusions show how African artistes can appreciate their diversity.
"Whatever puts us apart can be the very reason that brings us together. By weaving together different sounds, Coke Studio introduces African youth to their cultural fabric in a way that is totally palatable and acceptable to them. They are introduced to languages they've never heard and hear lyrics that stimulate them emotionally and intellectually," he said.
He is perhaps one of the greatest beneficiaries of this programme as his participation in 2015 produced a wonderful collaboration with Nigeria's Chidnma which they titled Perfect Combo.
"This is where that collaboration was born and I must say that this as a platform allows the artiste to know how the industry operates in other places and the dynamics that are sometimes not laid bare," says Joh Makini.
The connections that come with the participation is one that many artistes only wish for as they get exposed to international producers who have been in the game for a very long time.
"For the time that you are there you get to spend time with music big wigs and perform with the band which is something that most artistes don't do locally," he says.
Africa according to him is such a huge continent and it is only through the limelight that the show provides that can make artistes reach the corners of the continent.
"For a new artiste this is an opportunity to get your music out there and showcase your skills on a global stage," says Joh Makini.
How did it begin
Coca-Cola developed a multi-dimensional strategy that aimed at identifying its post-modern consumer, as an active user, who is continuously seeking for solutions in their social setting and environment, but most importantly an emotional intuitive searcher.
Secondly, promised to provide superior value asset that will deliver customer satisfaction by reviving the music industry.
Coke Studio distinguished itself and created a unique individual space within the collective music space by focusing on fusion; fusion of different genres of music, languages and cultures.
Although the acclaim Coke Studio receives is anchored in the unique insight that drove its inception, the manner in which it has been amplified across multiple touch-points over the course of several seasons has contributed a great deal to its popularity and success.
Digital media on the other hand has definitely played an instrumental role in enlarging its scope and making it accessible to a wider audience.
This year's Coke Studio Africa will include artistes from South Africa, Kenya, Uganda, Tanzania, Rwanda, Ethiopia, Nigeria, Ghana, Angola, Zimbabwe, Togo, Cote d'Ivoire and Madagascar.
Others are Mauritius, Mozambique, DRC and Cameroon with the new season set to premiere in different regions from September and will broadcast in more than 30 countries across Africa.