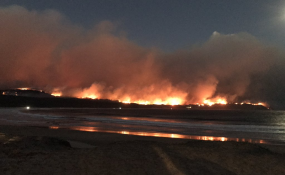 Photo: Energy Afric Recruit/Twitter
A Netcare911 paramedic took to Facebook this week insinuating that the Knysna fires is a result of God's wrath because 12 gay couples got married during at LGBTI festival in Knysna last year.
Bossie Boshoff (Not his birth name) posted on his Facebook account asking if anyone remembered when Knysna was dressed in pink last year, where "12 homosexual weddings on one day," took place in one day at the annual Pink Loerie Mardi Gras and Arts Festival.
"It was just after the elections of the Dutch Reformed Church where they approved homosexual marriage... It was all over the newspapers... God was taunted with it... They should not cry about the fires now... God won't allow himself to be made a fool of ... !!!," said Boshoff.
Boshoff was referring to the devastating fires in Knysna which has killed 6 people, displacing hundreds more after more than 10 000 people had to be evacuated. Among the dead is a firefighter and three-year-old child.
Netcare911 confirmed that it was Boshoff, and intermediate life support (ILS) paramedic, who had been suspended. Grindell would not give Boshoff's first name but confirmed the surname.
In a statement released by Netcare911, managing director Craig Grindell, who did not name the paramedic, said that the company completely distanced itself from the "paramedic's unacceptable comments."
Grindell confirmed to News24 that it was Boshoff who had been suspended but would not give his first name. Boshoff was suspended pending a disciplinary hearing will would be scheduled for next week.
"Netcare and Netcare 911 have a firm, zero tolerance stance towards discrimination of any kind. We will not hesitate to take the strongest possible action when made aware of any action, and or behaviour, of a staff member which transgresses the company's values, ethics and code of conduct," said Boshoff.
Grindell added that their thoughts are with the communities of Knysna, Plettenburg Bay and further along the Garden Route in their time of crisis and extended his deepest condolences to the families who have lost loved ones in the devastating fires.
Boshoff has since deactivated his Facebook account, but not before someone managed to grab a screen shot of his status, which was sent to News24.
The Pink Loerie Mardi Gras & Arts Festival which is held in Knysna annually, is lesbian, gay, bisexual, transgender and intersex (LGBTI) held in celebration of the culture an identity of the community.
The Dutch Reformed Church lifted a ban on gay marriage in 2015.
News24