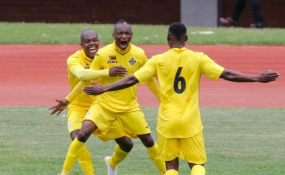 Photo: newzimbabwe
By Grace Chingoma
ZIFA president Philip Chiyangwa yesterday described Warriors caretaker coach Norman Mapeza as irreplaceable in a seal of approval which might indicate a long relationship between the association and the mentor. Mapeza is the Warriors interim coach doubling up as the coach of Premiership side FC Platinum. The double role appears to perfectly suit ZIFA, who have a sparse calendar with the next Africa Cup of Nations qualifying match scheduled for next year in March.
And a joyful Chiyangwa endorsed the former Warriors skipper when, after the match, he showed that he has no other plans to look for another or substantive coach.
"I am elated. I am very happy that my team performed very well. I have an excellent team and an excellent coach. It is the beginning of a journey to qualifying again.
"You continue to ask me whether Norman Mapeza is permanent or not.
"He is irreplaceable. For how long should I keep on saying that? He is FC Platinum coach, yes, and he is also the national team coach," said Chiyangwa.
However, Mapeza was singing a different tune during the press briefing. He said he was just acting in the job and the association may appoint a new coach anytime.
"For some years, this was our first qualifying game playing at home and I think we took advantage of that. I think we have built a strong foundation going forward.
"The most important thing is just to be consistent, let's try to keep the team as it is, but everybody knows that I am an interim coach, maybe (for the) next game there would be a new coach, but my advice to whoever, maybe will come and takeover, is that let's keep this team and include maybe one or two guys who were not available today.
"I think it is a good team, a good mixture of experienced players and youngsters, I think it is good for the country," Mapeza said.
When he was quizzed whether he was interested in the job on a substantive basis, Mapeza insisted he is an FC Platinum coach.
"Everybody knows that I am employed by FC Platinum and everybody knows I am interim coach here. ZIFA may decide otherwise that's why I am saying whoever comes and takeover, my advice is for him to keep the team intact.
"I am employed by FC Platinum, I am still employed by FC Platinum. I am here on an interim basis," he said.
The Warriors also received praises from the Minister of Sport and Recreation Makhosini Hlongwane who was at the stadium.
"I am very happy with the selection that's why we came with the Team Zimbabwe national selection policy which says players should be selected based on merit.
"The calibre, the skill shown by players today (yesterday) it was amazing. Everyone deserved to be in the team. I am just hoping that they will continue doing this.
"Well done to Musona (Knowledge), he was a marvel to watch and as captain, he was able to steer the ship," said Hlongwane.
The Sports Commission chairman Edward Siwela hailed ZIFA for the good organisation of the match.
The seasoned administrator said after the disappointing events which preceded the Gabon AFCON finals in January with players boycotting a farewell dinner on the eve of their departure for the tournament, it was pleasing to see that an oasis of calmness has returned to the team.
"We really applaud the team. We are clearly happy with the team. What is critical with this performance is that the organisation was good. The preparations of a game tend to be reflected on the match .day with the result of the day. We are coming from a sad chapter of AFCON tournament and this means this time around the preparations were handled well.
"What Mapeza did, reflects his pedigree as a good coach. He brought new players, maintained some old players and that blending gave us a good result. The 2019 Africa Cup of Nations campaign has started well. We applaud that.
"Our message to ZIFA as Sports Commission has always been the need to put a lot of emphasis on preparations and that the evidence of that will come on the pitch."