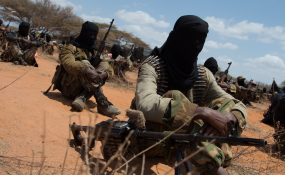 Photo: Hamza Mohamed
Military jets, thought to be belonging US air forces have carried out an overnight airstrike in Southern Somalia, targeting Al shabaab bases, officials and residents said.
The air raid took place in Tooratoorow town, which serves as command and logistics base for Al shabaab in Lower Shabelle region, according to a Somali military officer.
The officer spoke on condition of anonymity because he was not authorized to speak on the matter. There was no immediate confirmation of the casualties on Al shabaab militants.
The airstrike comes hours after Somali, and AU forces backed by US military attacked several Al shabaab positions in the region, seizing Barire, where a Navy SEAL was killed in May.