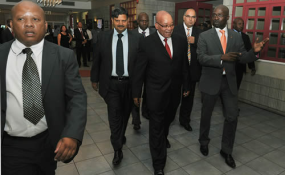 Photo: The Presidency
By Ranjeni Munusamy
Why did Malusi Gigaba, when he was Minister of Public Enterprises, tell Denel to continue with the procurement of locomotives, even though it was illegal to do so, and instructed the state-owned company not to communicate with the National Treasury? A letter from Gigaba dated December 7, 2012 was released to the media by the Economic Freedom Fighters (EFF) on Thursday as part of a dossier on a dodgy Transnet locomotives tender. This is part of a labyrinth of allegations related to the Guptas' capture of the state that is in the public domain but not under investigation. EFF leader Julius Malema has now outlined a multipronged approach to take on the state capture network.

As information about the Guptas' grip on the state and their control of government leaders continues to flood out of the tranche of leaked emails, the ANC appears to be like a deer in the headlights. Last week, the ANC issued a 145-word statement saying the leaked emails "contain very worrying claims about the nature of the relationship between government and private interests".
"The ANC views these allegations in a very serious light as if left unattended, they call into question the...