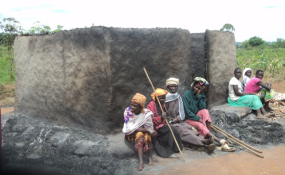 Photo: Patrick Okaba/Daily Monitor
By Julius Ocungi
Prime Minister Dr Ruhakana Rugunda in Norther visits the disputed Apaa land where an ethnic clash between the Acholi and Madi people last Wednesday left four dead, 21 injured and their huts burnt.
About 700 people mostly the Acholi from Juka village have been displaced in the violence and camping at Apaa trading center. About 100 Madi people also fled the violence and are camping at Zoka primary school.
According to information Daily Monitor got, Dr Rugunda upon arrival in Amuru District will hold meetings with leaders in Amuru before proceeding to the Disputed land in Apaa trading center.
He will also later hold meetings with Adjumani leaders in a bid to find solutions into the long standing disputed between the two communities.
Police, MPs clash
A section of Acholi Members of Parliament this morning clashed with the Aswa Regional Police commander Bosco Otim over their proposed visit to Juka village in Apaa parish Adjumani District.