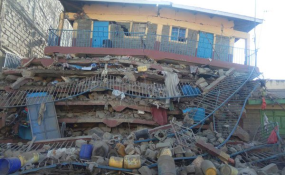 Photo: Lilian Mutavi/Daily Nation
A seven-storey building has collapsed in Kware, Embakasi, Nairobi.
The incident occured Monday night, according to police.
Most families were evacuated but police say some people may be trapped.
According to the Embakasi police boss, 121 people have been accounted for.
Rescue efforts are under way.
Joas Nemati, a resident, explained to Nation.co.ke that at 1pm on Monday workers and the caretaker of the building repaired a huge crack on one of the the staircases and assured them the house was intact
But at 6pm, Mr Nemati said, his wife called him saying they have been ordered leave immediately as the building was coming down.
Police arrived at the scene and assisted in the evacuation, however, a woman and her three children refused to leave.
The whereabouts of the woman and the children, remains unknown.
The number of missing persons is yet to be confirmed, the Kenya Red Cross said on its Twitter feed.
The country has witnessed similar tragedies in the past. Last year, nearly 50 people died when a building collapsed in Huruma estate, Nairobi.
More follows...