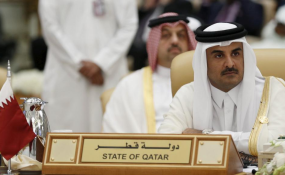 Photo: RFI
Thousands of Somalis running businesses in United Arab Emirates are living in a diplomatic limbo as they face possible expulsion from the Gulf state following their country's decision to seek a neutral stance in the Qatar crisis.
"I feel unsafe in Dubai. I have a feeling that we may be deported anytime" Ahmed Jama a trader in Dubai told Radio Dalsan in a phone interview.
Dubai has in the past attracted one of the highest nunber of Somalis living in the diaspora mostly traders.
Millions of dollars which are usually sent back to Somalia may be lost if UAE takes the decision to expell Somalia nationals.
UAE is in an alliance with Saudi Arabia that recently blockaded Qatar over alleged funding of terror activities in the region.
Somalia has chosen to be neutral on the issue neither siding woth Riyadh nor Doha.
" I plead with my government to reverse its decision to be neutral and instead side with UAE and Saudi Arabia on this matter for the sake of Somalia" Jama said.
On Sunday a Somali participant in the Dubai International Holy Quran Award Competition was expelled. The incident he claims was linked to Somalia's decision to play neutral.