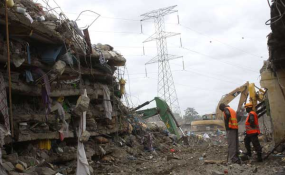 Photo: Anthony Omuya/The Nation
By Lillian Mutavi
A house that sunk in Kware, Embakasi, had shown indications it would collapse a week ago, tenants say.
More than four floors were pushed into the ground in the Monday night incident and there are fears that over a dozen tenants are trapped in the rubble.
SURVIVORS
Police, National Youth Service personnel and workers from Nairobi City County government are working to remove debris in search of survivors.
Head of security at City Hall Francis Munyambu on Tuesday said most of the people had been evacuated but he could not rule out that others may be trapped inside.
Kware MCA Ken Ngondi claimed the building was put up using substandard materials but the Nation could not independently verify this claim.
Mosomo Elisali, a tenant, said residents first learned that all was not well at the weekend when part of the ground-floor plaster started peeling off.
The owner, only identified as George, started repairs on Sunday, he said.
BIG CRACKS
"We found workers plastering part of the ground floor," Mr Elisali said.
"We thought it was a normal repair, but yesterday (Monday) a big crack appeared on the stairs. That's when we realised it was serious."
After the cracks were spotted, he said, someone called the owner, who visited the house but left in a huff.
A few minutes later, police arrived at the scene at 7pm.
The officers ordered the tenants to move out of the structure immediately and since it was an emergency, they left without their belongings.
BELONGINGS
Joas Nemati, who lived on the seventh floor with his wife and child, told the Nation that his wife called him saying they had been ordered to leave immediately.
The occupants assembled at the Downstream Academy grounds, where they spent the night in the cold.
But at around 11pm, some decided to go back to the building to collect their belongings. That is when it sunk, according to witnesses.
"I'm not sure if the police had left the scene and people decided to rescue their things… and I don't know how many were trapped," said Mr Elisali.
Each floor of the ill-fated building had 14 one-bedroom apartments and the tenants paid 3,500 per month.