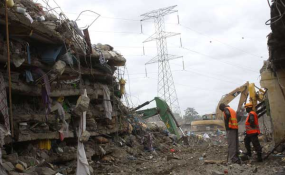 Photo: Anthony Omuya/The Nation
A seven storey building in the center of the Kenyan capital, Nairobi, has collapsed. Rescues services reported that 15 people were missing.
Political leaders from Germany and East Africa are set to attend the second German-African Economic Summit in Nairobi this week. But how friendly or cordial are Berlin's ties with Kenya, Uganda and Tanzania?
Kenya's Red Cross chapter on Tuesday said a seven storey building "sunk" in an eastern Nairobi suburb. The organization said its "response teams are at the scene."
The Red Cross Twitter feed showed concrete blocks and twisted metal.
At least 121 people have been accounted for, according to Pius Masai, deputy head of communications at the National Disaster Management Unit.
"It is believed that some people may have been trapped. Rescue efforts are ongoing," Masai said.
The local Saint John's Ambulance said 15 people had been reported missing.
According to the Red Cross, the building had been evacuated before the collapse. However, rescue workers were checking to see if people had been in the building's vicinity when the collapse happened.
Kenya has witnessed similar tragedies in the past. More than 40 people died last year when a building collapsed in northeastern Nairobi amid a heavy nighttime downpour.
ls/rc (Reuters, AFP)