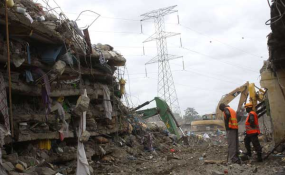 Photo: Anthony Omuya/The Nation
By Joseph Muraya
Nairobi — It has emerged that some tenants in the collapsed building in Embakasi East ignored pleas by the police to evacuate, raising fears some could be trapped under the debris.
One of the tenants, Dorothy Ouko says she does not know the whereabouts of her 15 year-old son and a 22-year old nephew, who insisted on finishing their dinner first, before evacuating.
She also had a friend's child in their one bedroom house.
"My three other kids were out of the house before it collapsed, " she told Capital FM News.
She missed death by a whisker, thanks to police officers who barred her from returning to the house.
Police arrived in the premises three hours before the collapse.
"One of my neighbours living in the sixth floor said we're not God to know whether it will collapse or not... she was in the house with her two children," the fish vendor said.
She has resided in the building for eight years "and it's because the house was spacious and there has never been water rationing."
National Disaster Management Unit Deputy Director Pius Masai says about 128 tenants were evacuated.
The search and rescue operation continued Tuesday but Masai says it is delicate since the space is limited and the adjacent seven-storey building that is not stable as well.
Tenants have since been asked to also evacuate.
Meanwhile Governor Evans Kidero says the county will support tenants of the building.
He says the building was among those earmarked for demolition but the owner barred them through a court order.
"We have everything to undertake the operation to ensure no life is lost," he said.
Already the county has disbursed Sh2 million to assist the 128 families.
"This building was never approved by the county when it was built in 2007," he regretted
He has urged city residents to be cautious while renting houses by ensuring their safety is guaranteed.
In Nairobi, there are about 1,560 houses that are poorly done and should be demolished according to Governor Kidero.
"Most of the buildings in Eastland part of the city have issues," he said.