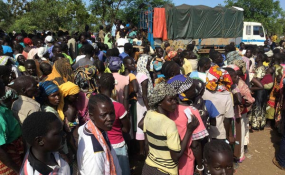 Photo: Martin Okudi/Daily Monitor
Addis Ababa — The extraordinary IGAD summit meeting which concluded session here Monday, has appreciated Sudan's role in hosting south Sudanese refugees who fled their country following the clashes there and for treating them on the same ground as Sudanese citizens.
Ambassador Jamal Al Sheikh, Sudan's ambassador to Ethiopia, told the Sudan News Agency SUNA that the summit has commended the opening of Sudanese humanitarian corridors to forward relief to the affected civilians in south Sudan.
He said the summit has also underlined that IGAD would continue cooperating with partners and that it has decided to take concrete steps in this regard.
He referred to the outcome of the summit which stand out as a qualitative move in how to deal with the crisis in south Sudan