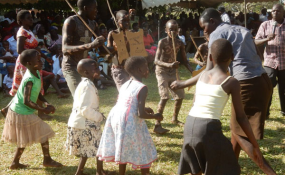 Photo: Bill Oketch/Daily Monitor
opinion
By Bill Oketch
Lira — Defilement remains a big problem and one of the repeated forms of child abuse in Lango sub-region due to various factors, official have revealed.
According to police, most times parents of victims opt for cash gifts and bribes from defilers in order to settle cases of defilement out of court.
Police say girls as young as 13 years are defiled while others impregnated by older men in the sub-region.
Information available at Lira Central Police Station, for instance, indicates that at least four cases of defilement are reported every month. This means that a girl is being defiled every week in Lira District alone.
Police say the situation could be the same in other regions countrywide.
Currently, dozens of men are serving their sentences in prisons across the Lango sub-region over defilement, according to the law enforcement agents.
Last week, a defilement case involving a three-year-old girl was up for hearing at the High Court in Lira District.
Before the hearing could commenced, Resident Judge Winifred Nabisinde blocked all those who were eager to attend the court session, including uniform officers: police and prison staff.
The same court also handed a six years' sentence against an 18-year-old man for defiling a 17-year-old girl.
Defilement is defined as having sexual intercourse with a girl who is below the age of eighteen years. According to the Ugandan law, anybody below 18 years is considered to be a child. It does not matter whether they have consented or not to having sexual intercourse.
While critics blame police for failing to handle the plight of defilement victims, police seem to find even bigger problems in their strong-willed struggle to have defilers face the law.
The Lira District police commander, Mr Joel Tubanone, says some parents strike deals with the offenders to withdraw cases placed against them.
Mr Tubanone says parents are given money or animals like cows and goats to kill cases.
"Our community is losing it (defilement case) because of poverty. People start looking at how much they can get from the perpetrator, and they think if they reap many cows from a defilement case, they would be rich and live happily ignoring the victims," he said.
Police say unless the victims or their relatives agree to cooperate with the State, the problem of defilement will not be mitigated.
"We have had situations where you investigate a case and you reach its peak but simply because some clan leaders went and negotiated aside, you begin looking for witnesses and nobody wants to appear before court because they have already been bribed," Mr Tubanone added.
Because of the prevalence of defilement, Parliament in 1990 amended the law relating to defilement (by Statute No. 4 A of 1990).
The amendment led to the increment of the defilement age from 14 years to 18 years and raising the maximum punishment to death.
This development came against the backdrop of serious concern for the physiological and emotional health of children who were increasingly falling victim to shameless men.
Today, some critics blame parents' lack of cooperation and hunger for quick money for the numerous cases of defilement.
"Parents of victims value wealth instead of caring for the abused children. To them, the higher the punishment, the higher the negotiation," Mr Tubanone said adding that "It may not matter whether you say you amend the law and then say probably 10 years for defilement; they will even negotiate within the 10 years because of our mindset and what we perceive of the offence."
The Dokolo District chairperson, Mr Frederick Odongo, said many people take defilement, especially of girls aged 16 years and above lightly because they think at that age, the girl is already a "mature woman."
Ms Judith Akello, a parent and resident of Te-kulu, Ojwina Division in Lira District, said: "Most parents look at defilement as an income generating activity. They only run to police when the negotiation fails."
Mr Denis Hobbly Oyite, a human rights activist, said many men think the younger the girl, the lesser the danger of contracting sexually transmitted infections.
The Alebtong District councillor, Ms Barbra Akech blamed clan leaders, relatives and local leaders who sometimes conspire to conceal information whenever defilement occurs.
Ms Akech said there was a defilement case registered last year at Angeta parish in Omoro Sub-county. No sooner had the suspect been apprehended and taken to police, than he was released on bond after parents were reportedly allowed to negotiate at the police premises.
However, there is no negotiation when it comes to criminal offences such as defilement, rape, murder and robbery, among others.
Lira Resident District Commissioner, Mr Robert Abak, who is also the head of the security in the district, said a police detective at Lira Central Police Station attempted to mismanage a defilement case recently. This particular case involved a 13-year-old girl.
"When the media reported about it, I walked to the DPC and gave him one hour only to bring the suspect to book and he complied," Mr Abak said.
"Am now receiving more recruits to help me fight this war. We have been talking and talking as government but we cannot succeed without the media coming in," he added.
Mr Tubanone also said some bad elements in the Force are frustrating efforts to prosecute suspected defilers.
"In a situation where you see something is abnormally being handled, just know there is corruption involved," he said, explaining that the entire police institution may not be corrupt.
To tackle the problem, some non-governmental organisations are working with journalists and local leaders to end child-related abuse including early marriages and defilement.
Voices
"We have had situations where you investigate a case and you reach to its peak but because some clan leaders went and negotiated aside, you begin looking for witnesses and nobody wants to appear before court because they have already been bribed,"
Mr Joel Tubanone, Lira District police commander.