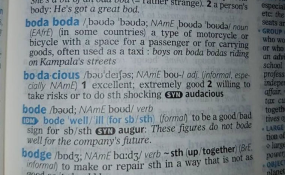 Photo: The Observer
column
By Charles Onyango-Obbo
So recently the word "boda boda" created a lot of noise on social media, after it made it into the Oxford Advanced Learners' Dictionary.
On my Twitter page, the post on it was "retweeted" or "liked" nearly a mouth-watering 5,000 times! Before long, there was a squabble between Ugandans and Kenyans over the ownership of the origin of "boda boda" word. People felt strongly.
We shall return to these issues shortly. I am told in Britain, the Oxford Dictionary watched "boda boda" go viral in East Africa both with great interest and a little amusement.
It was not the only East African word that had found its way into the dictionary. But more intriguing, "boda boda" made it into the dictionary two years ago! The primary reason it created a wave today, is that that's when the people in the region of its origin tweeted it. While more people use dictionaries today, very few use the hard paper one. They use the online versions.
I go through the rituals of buying updates of the Oxford Dictionary, especially those with gorgeous covers, every few years. But that is driven by habit, not need. In the last five years, I have opened a paper dictionary less than 10 times.
The "boda boda" buzz, two years after it went into the pages of the Oxford Dictionary, therefore, was another dramatic illustration of just how much the learning (and reference) action has gone digital.
What interested me personally more though, was the debate over "boda boda's" territorial origin.
The dictionary categorises it as an East African word, defining it as "a type of motorcycle or bicycle with a space for a passenger or for carrying goods, often used as a taxi".
For example, of usage, it offers "boys on boba bodas riding on Kampala's streets". That example was seen to be privileging Uganda's claim to the word, and some euphoric citizens of the Pearl claimed it would "boost tourism". Not sure how, but it would be good if it did.
The Wikipedia entry on boda boda says the word originated in Busia, Kenya. While the rest of the history is largely accurate, locating its birthplace there is only half accurate.
It illustrates a specific failing with what we shall loosely call "hinterland people", i.e. folks who are not from border communities. The Kenya side of Busia, only makes sense because of the Uganda side of the same border. Likewise the Uganda side of Busia, only has complete context when you factor in the Kenya side.
The movements to the border, for trade, to visit across the map line, which gave rise to "boba boda" were partly because in the Idi Amin days when it started as bicycle traffic, the Uganda side was an economic wreck plagued by fuel shortages.
There were also very backward border and trade controls then, which are long gone today. That is when the second factor kicked in. Transportation on bicycle represented a "miniaturisation" of the load that you could carry without being inconvenienced too much by customs officials and border police.
And for those who chose to take the "panya routes", it was better to do it on a bicycle, and later, motorcycle, than car.
The third, and enduring factor, is that even if there were no economic drivers, the border at Busia divides a common people, the Samia. The Samia social support networks would still have fuelled the emergence of boda boda. Therefore, the accurate birthplace of boda boda is the "Uganda-Kenya border area".
Timing is everything here, though. If boda boda had waited until today, would it still have come about? Yes. But its birthplace wouldn't have been Busia region, and therefore, it would have been called something else.
So why does Kampala become an obvious example for usage of boda boda? Because, according to some accounts, it is the East African city with the most boda bodas. Numbers range from 200,000 to 500,000.
Like several other African cities, boda bodas have exploded in numbers in Kampala in recent years, with the collapse of the State-run public transport system.
But if that was all, we would have less than 25,000. The number of our boda bodas is to do with the land ownership system, and how the construction of housing has responded to that and booming urbanisation.
Though they are a menace in other ways, boda bodas have democratised housing and helped keep rents "reasonable". That's because you can build flats where cars can't reach, but they will fill up, if there is a small path for boda bodas to get there.
So what will be the next big "boda boda" tweet? I suspect when a university announces a course on "Boda boda-nomics". And, don't be surprised if Oxford University introduces it before Makerere.
Mr Onyango-Obbo is the publisher of Africa data visualiser Africapedia.com and explainer site Roguechiefs.com.