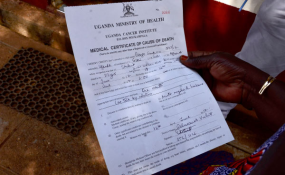 Photo: Alex EsagalaDaily Monitor
By Emmanuel Ainebyoona
Kampala — A cancer patient has died at Uganda Cancer Institute (UCI) sixty hours after health workers failed to admit or treat him.
Simon Ekongo, 22, passed on yesterday morning on the compound of the institute where an ambulance driver who transported him on referral from Kiruddu Hospital, a Mulago Hospital affiliate, reportedly abandoned him.
His death has shocked family members, including his father Mr Micheal Okada, who had just arrived from the eastern Soroti District to take care of him as he receives treatment in Kampala.
According to Ms Florence Akello Okae, a caretaker, the deceased was initially referred from Soroti Regional Referral Hospital to Mulago Hospital. They were sent to Kiruddu hospital in the city outskirt of Munyonyo before being referred to UCI complex, close to Mulago main hospital.
The deceased, she said, was not attended to for more than three days until his passing on.
"At Kiruddu hospital, they tested the blood [of the patient] and confirmed that it was acute leukemia, similar to what was earlier suspected [by health workers] at Soroti Hospital," Ms Akello, a breast cancer survivor who volunteers to help other patients, told this newspaper yesterday.
She added that they were then referred to Uganda Cancer Institute on Friday, June 9. This was a day celebrated locally as Heroes' Day and, therefore, a public holiday and as such health workers were unwilling to receive or treat the critically-ill patient whose referral they faulted on technical grounds.
"We were brought by an ambulance...we arrived at about 2pm on Friday but upon reaching [at Uganda Cancer Institute], the ambulance driver communicated to unidentified man who said the admission can only be done on Monday (yesterday)," said Ms Akello.
In an interview yesterday, UCI director Dr Jackson Orem said there was lack of coordination and the patient had not been properly referred.
"The patient was entrusted with an ambulance driver which was wrong. The senior doctor referring the patient should have called Uganda Cancer Institute, but this did not happen," he said.
Instead, he said, the patient was given to a driver, without a nurse on board, who abandoned the patient on the compound of UCI.
"At the Cancer Institute, there is no record of this patient. This is unfortunate and we take responsibility because the patient died in our compound," Dr Orem said.
Mr Julius Ekia said his brother died inside a tent on UCI premises at around 2am on Sunday night.
"We were told to go to the lower sections of the Cancer Institute and have my brother admitted, but instead the ambulance dropped us at the tent," Mr Ekia said.
He added that the records office where registration is done remained closed since last Friday and neither was there a medical worker to attend to them.
Kiruddu Hospital spokesman Nelson Obote and his Mulago Hospital counterpart Enock Kusasira were unavailable to comment.
Dr Orem promised that the UCI would transport Ekongo's body to Soroti.