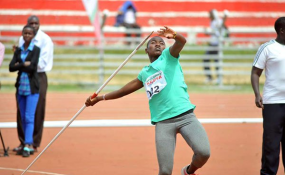 Photo: Chris Omollo/Daily Nation
By Ayumba Ayodi
National Secondary Schools race walk champion Dominic Samson and javelin thrower Cynthia Chebet won their respective events on Tuesday to storm the World Under-18 Championships planned for July 12-16 at Kasarani.
Inspired by the legendary Nyandika Maiyoro, Samson, who is a form two student at Kiandege Secondary School in Nyamira, lapped all his rivals, clocking 44 minutes and 14.9 second to win boys' 10,000m race walk on the first day of the national trials at the Nyayo National Stadium.
The time by the 17-year-old, who embraced race walk while in class six at in Nyamira, surpassed the World Under-18 qualifying time of 49 minutes.
Chebet, a form four student at Riruta Central, Nairobi and great fan of World javelin champion Julius Yego, hauled her third throw of 49.91metre to win the girls' javelin competition.
A shocked Chebet, who had finished second and threw 44 metres during the pre-trials in Eldoret, broke the World Under-18 qualifying mark of 49metres.
Brian Gichana from Nyanza South clocked 53.18, beating Secondary Schools champion Nicholas Pelaron in the boys' 400m hurdles final as both qualified for the World Under-18.
Samson, who is fresh from retaining the Secondary Schools race walk title in Mombasa last weekend, edged out Southern' s Joseph Sila, who missed qualifying for the world youth even with his time of 49:25.4 as compatriot Elvis Kyalo came in third in 49:41.0.
"The feeling is great and it's none other than Maiyoro, who encouraged me that I would make it if I worked hard and stayed disciplined and focused," said the jubilant Samson, who had qualified for the previous World Under-18 held in 2015 in Cali, Colombia but his travelling documents failed him.
"I didn't have my birth certificate and it was too late to travel when I got it. God's time is always the best," said Samson, who now dreams of representing Kenya at the 2020 Tokyo Olympics.
Samson, who will represent Kenya for the first time, thanked his school's principal Shadrack Nyantika and coach Anyona for their encouragement.
Chebet, the youngster sister to Sylvia Chesebe, who has represented Kenya in the past three World Relays Championships, said she owes her qualification to coaches Caroline Kola and Gregory Kilonzo.
"Actually, I couldn't believe it but I thank God. I now pray to reach the finals at the World youth and perhaps target the medal bracket," said Chebet, who had lost in the finals of 400m and 800m during the Secondary Schools Term Two A Games.
Geoffrey Kikosgei threw 15.21 metres to win boys shot put but fell short of hitting the World Under-18 qualifying mark of 18.20. Peninah Akoth's exploits of 11.61 in girls shot put fell short of the 15.40 world youth target.
At the same time, Kenya and Regional Secondary Schools 10,000m champion Rhonex Kipruto won men's 10,000m in 29:05.1 to qualify for Africa Under-20 Championships set for June 27 to July 2 in Algeria.
Samson could double up in men's 10,000m race walk alongside Hemstone Wanyonyi from Chewoyet, West Pokot, who won the Under-20 final in 44:38.17. Lawi Melly (Central Rift) and Sananka Lamayian (South Rift) were disqualified.
Brenda Mukwana dashed to victory in women's 400m hurdles in 61.16 to qualify for the Africa Under-20 event as Virginia Kasyoka (South Rift) 62.09 and Caroline Nyakerairio (Nairobi) 72.42 failed in their quest.
Back to World Under-18 qualifiers, Irene Akinyi (Nyanza South) and Leah Jeruto (North Rift) won their girls' 400m hurdles semi-finals with the fastest times of 62.47and 63.83 respectively.
However, they have a task of beating the qualifying time of 62.25 in the final on Wednesday.