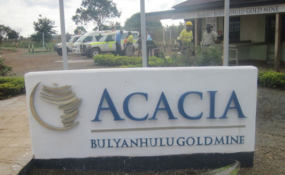 Photo: Daily News
By Alex Malanga
Dar es Salaam — Questions are being raised about the Acacia Mining registration after the second presidential probe committee alleged that the company operated illegally in the country.
The report which focused on the legal and economic aspects was presented Monday and revealed that the company was neither incorporated nor had certificate of compliance from the Business Registration and Licensing Agency and that it under-declared revenues and tax payments over a number of years by tens of billions of dollars.
Acacia denied the accusations, saying its corporate structure is fully transparent, lawful and is disclosed annually in their annual report and accounts which are audited in accordance with the International Financial Reporting Standards.
"The Acacia Group Holdings structure was fully disclosed to the Tanzania Capital Markets and Securities Authority [CMSA] at the time of Acacia's cross-listing on the Dar es Salaam Stock Exchange in 2011. The group structure formed part of the information memorandum approved by the CMSA for the cross-listing. Since the cross-listing the only change has been the change of Acacia's name from African Barrick Gold plc to Acacia Mining Plc," the firm said in a statement.
There are also questions over how the mining giant has been paying taxes to the Tanzania Revenue Authority without registration and proper licence.
Repoa strategic research director Abel Kinyondo said questions raised were attributed to low knowledge of the law.
They include, according to him, misconception of the Company Law 12 (433) which explains fully the requirements for foreign and local companies on having certificates of compliance and incorporation respectively.
Dr Kinyondo was of the view that the government was treating Acacia as Barrick because the later had a lion share of 63.9 per cent and was already registered in the country.