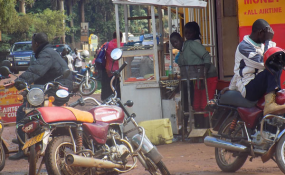 Photo: Dorcus Murungi/Daily Monitor
analysis
By Dorcus Murungi
Did you know that apart from the famous Wandegeya in Kampala, there is another place by that name?
Well, apparently as you go to Uganda Christian University (UCU) in Mukono, there is a small town known as Wandegeya.
Mukono town is located approximately 22 kilometers from Kampala. Wandegeya town is located opposite the UCU main gate, a walkable distance from 'Bishop Stage' at the main road. A boda boda ride will cost Shs1,000.
From upcoming businesses to its growing population, it is easy to see why students have come up with this name. It is more like the original Wandegeya in Kampala.
Origin
James Lubuulwa, 50, a resident of the area since childhood says the place was originally known as Kawuuga until university students started referring to the town as 'Wandegeya' around five years ago. He says the name which started as a joke slowly replaced the former one.
"As old people we didn't embrace the name at first. However, because the biggest population of this area comprises University students, the name spread like wild fire and now everyone else calls it Wandegeya," he says.
Lubuulwa says University students love modernising things, a reason why they didn't like the original name.
"I think they wanted the place to be just like the original Wandegeya since to them that is something great. However, it should be noted that that is just a nickname which hasn't yet been included on the Map though they might soon add it because of the area's popularity," he added.
Land and Rent
Promise Nakiwala, a landlady in Wandegeya says since the inception of the university, land and rent has become expensive.
"A small plot of land in Wandegeya can go for as much as Shs70m. Rent is also very expensive since most of the apartments have been turned into student hostels. Rent ranges from Shs600,000 and upwards per semester," she says.
She says this has helped them as landlords to earn income noting that the university has greatly contributed to the economic development of the place.
Economic activities
Lubuulwa notes that because of the university, various economic activities have sprung up in the area, something he says was not there in the past.
"Wandegeya has been taken up by businesses from supermarkets to small shops, photo studios, hostels, boutiques, restaurants, to mention but a few," he explains.
The market, he says, is driven by university students.
Security
Lubuulwa says though the area was known for good security in the past, this has changed since students started flocking the place. He says the area now has a lot of thugs who mostly target students' laptops and expensive phones. "If you walk alone during late night hours, then you risk being robbed. There are conmen who move during day time and if you are unlucky you may land on them," he notes.
He says thieves also target student hostels where they enter disguised as students to steal student's property.
Recreation
Godfrey Waswa, a boda boda cyclist in Wandegeya says due to demand from students, the area has many recreational places. "There is Casablanca, the Hive and Chills. There is no need to travel to Mukono town for a night out since all we need is now in one place," he says.