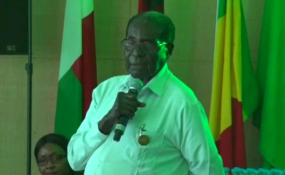 Photo: ZBC News Online
By Cletus Mushanawani
Mutare — Preparations for the second Presidential Youth Interface Rally set for Sakubva Stadium tomorrow are more than 90 percent complete, with workmen working round the clock to ensure everything is in order. Tents for VIPs as well as giant screens were being pitched at Sakubva Stadium while roads leading to the stadium as well as Dangamvura Post Office where an Information Communication Technology centre will be commissioned were resurfaced.
In an interview, Zanu-PF Youth League Manicaland secretary for administration, who is chair of the venue and entertainment committee, Cde Victor Saunyama, said they had done their homework well and were ready to host the President.
"VIP tents and giant screens arrived from Harare on Tuesday. As you can see, people are busy with their work. We are anticipating plus 60 000 people to attend this important rally and knowing the carrying capacity of our venue, we decided to have giant TV screens erected outside the main venue to enable the overspill to follow proceedings from there.
"We are grateful for the support we received from the Zimbabwe Tourism Authority which availed the giant screens and Minister of Information Communication Technology, Postal and Courier Services, Cde Supa Mandiwanzira, who provided the VIP tents," he said.
Cde Saunyama said the response from all stakeholders was overwhelming and most of them were volunteering their services.
"Contrary to claims by opposition elements that we will be force-marching people to Sakubva Stadium, we have been receiving calls from different service providers volunteering their services and we are humbled by that. This alone goes to show that Zanu-PF is a people's party.
"The opposition elements claiming that they are distributing fliers discouraging people from attending the rally are just singing for their supper. We know some of them grandstand to raise money to line their pockets. They have nothing to offer to the electorate, that is why they are trying to seek relevance by making noise about President Mugabe's Youth Interface Rallies.
"Come Friday, all those at the forefront of trying to derail this rally will be left with egg on their faces because people will not be hoodwinked by their cheap politics," he said.
In terms of resources mobilisation, Cde Saunyama said, as of yesterday, they had secured 55 buses, 32 lorries, 26 kombis, four 30-tonne haulage trucks and a train.
"This is transport for districts outside Mutare we are talking about. The train will carry people travelling from Headlands, Rusape and Odzi. More buses and other forms of transport are expected from other districts and by Friday, the number will have gone up four-fold. For Mutare, we have identified 32 pick-up points," he said.
Minister of State for Manicaland Provincial Affairs Cde Mandi Chimene said she was happy with the progress made so far.
"In short, it is all systems go for Friday's mega event. All Manicaland's seven districts have confirmed their attendance in their large numbers. We are encouraging people to come early. Although we have giant screens for people to follow proceedings outside Sakubva Stadium, it will be nice for them to be among those who will find seats in the stadium. This is an event for the youths of Manicaland to shine and I am very positive that they will never let their leaders down," she said.
Cde Chimene added: "I want to take this opportunity to warn those travelling to Mutare to exercise extreme caution to avoid the unnecessary loss of lives due to over-excitement. We say no to speeding and drunken driving."
In an earlier interview, Zanu-PF National Secretary for Youth Affairs Cde Kudzanai Chipanga said: "We are happy with the progress made so far in terms of preparations. We toured the venue and it shows that there is unity of purpose among youth leaders in Manicaland. We are excited by their vibrancy and this should not end with this big event. Their vibrancy should translate into the number of votes that our President Mugabe will garner from Manicaland in the 2018 harmonised elections."
A final inspection of the venue led by Cde Chipanga will be held this afternoon.