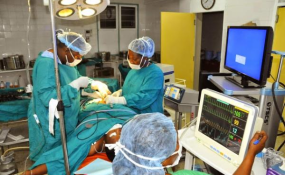 Photo: The Citizen
By Yohanes Jemaneh
Gandhi Hospital has opened the first Maternal Intensive Care Unit (ICU) in the country.
Hospital Medical Director Dr. Leulseged Tessema told The Ethiopian Herald that the new ICU would help the hospital to play its due role in supporting country's endeavour to improving maternal health.
He said that, till now, the hospital has been treating mothers alongside other patients whereas the opening of the ICU enables the hospital to give special maternal treatment follow up and reduce post-natal complications.
In the process of opening the ICU, the hospital has got material and professional support from Ministry of Health, health bureau of the city, Black Lion and St. Paul's hospitals, he added.
As a first maternal ICU, the hospital begun the service with three bedrooms and mechanical ventilators, he said adding, more facilities are expected to be provided soon.
Aiming at becoming a center of excellence in maternal ICU treatment, the hospital is working to add more services including internal medicine, surgery, pediatrics and fertility treatment among others, Dr. Leulseged said.
Accordingly, he stated that the hospital is ready to install semen and hormone analysis laboratory equipments.
The hospital would increase the number of physicians as it increases variety of treatments, he noted. He believed that the hospital is making its level best in the country's maternal health improvement.
Currently nine physicians specialized in obstetrics and gynecology are working in the new Maternal ICU.
Dr. Leulseged also called on the public to contact the hospital and get the service.
Hospital Maternal ICU Case Team Head Nurse Kidist Sibaga for her part said that the opening of the ICU would help the hospital to improve maternal treatment and reduce the number of referred patients to other hospitals.
The country is improving maternal health and maternal mortality also declining through time she said adding, the hospital is also working its level best in the sphere.
Mentioning about the hospital cooperation with other medical institution, Kidist noted that integration is very fundamental to assist the national goal in improving maternal health through sharing knowledge and technology.