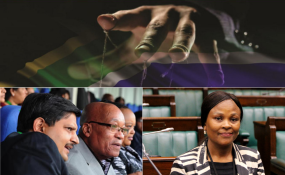 Photo: allafrica.com
press release
By Mmusi Maimane
The Public Protector, Adv. Busisiwe Mkhwebane, announced last night that her office will conduct a "preliminary investigation" to determine the merits of several allegations of corruption and unlawful enrichment emanating from the infamous "Gupta Leaks" - a tranche of leaked emails which implicate a host of Cabinet Ministers, Gupta-Owned Companies, public officials and State-Owned Entities in grand corruption and abuse of state power and resources.
In her statement released last night, Adv. Mkhwebane stated the following would be investigated:
Improper or dishonest act, or omission or offences referred to in Part 1 to 4, or section 17, 20 or 21 (in so far as it relates to the aforementioned offences) of Chapter 2 of the Prevention and Combating of Corrupt Activities Act, 2004, with respect to public funds at Eskom, PRASA and Transnet;
Improper or unlawful enrichment, or receipt of any improper advantage, or promise of such enrichment or advantage, by certain public officials at Eskom, PRASA and Transnet;
It is clear from this announcement that the preliminary investigation is far too narrow, and only includes cherry-picked State Owned Entities, while ignoring the role played by Jacob Zuma, his Cabinet Ministers, and the Guptas through their companies - as well as other SOEs.
Therefore, as the initial complainant in the State of Capture report, I will today be writing to the Public Protector, indicating my objection to this narrow investigation, and to request that she broaden the scope of the investigation to include every single individual, company, and State Owned Entity implicated in the leaked emails, including:
Cabinet Ministers Mosebenzi Zwane, Des Van Rooyen, Malusi Gigaba, Lynne Brown, and Faith Muthambi, as well as Free State Premier Ace Magashule;
Gupta-controlled companies Sahara Computers, Oakbay Investments, Mabengela Investments, Zestilor, Tegeta Exploration and Resources, and Elgasolve; and
State-Owned Entities Denel and South African Airways (SAA)
It appears that this investigation has been crafted as narrowly as possible to create the veneer of a state capture investigation, while at the same time protecting the real power brokers in state capture. The Public Protector has a duty to protect the public from the abuse of power, not to protect the President, his cabinet ministers and the Guptas.
Notwithstanding this new investigation by the Public Protector, the DA is pursuing several other avenues to hold those involved in the unlawful looting and sale of our country to account.
Earlier this month, I laid an array of criminal charges against President Jacob Zuma, members of the Gupta family, several Cabinet Ministers and senior executives of State Owned Entities, and other individuals alleged to be key players in the criminal syndicate that has captured large elements of the South African state.
The DA has also called for the establishment of an Ad Hoc Committee in the National Assembly. As detailed in our motion, the committee will be tasked with investigating evidence of "undue influence by certain individuals over the exercise of executive authority in South Africa".
Lastly, the DA is in court fighting for the establishment of a Judicial Commission of Inquiry - recommended by former Public Protector, Thuli Madonsela, in her State of Capture report - which President Zuma is fighting tooth and nail to block.
The DA will pursue every available avenue until the corrupt State Capture project that has undermined and crippled key institutions of the state is stopped and the ANC is removed from power.
We must end this grand-scale corruption so that we can focus on growing the economy and creating jobs for the 9.3 million unemployed South Africans.
Mmusi Maimane
Leader of the Democratic Alliance