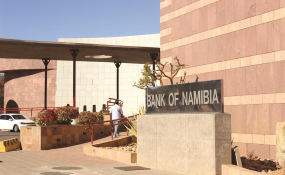 Photo: Sulpplied
By Ndama Nakashole
CENTRAL bank governor Ipumbu Shiimi yesterday announced that the repo rate will remain unchanged.
He said the monetary policy committee (MPC) of the Bank of Namibia made this decision at its bi-monthly meeting held on Tuesday, following a review of global, regional and domestic economic and financial developments.
The repo rate is the rate at which the central bank lends money to commercial banks.
The latest development comes as a relief to consumers because in a case where the central bank hikes its repo rate, it becomes costly for banks to borrow from the Bank of Namibia, so they in turn hike the rates at which customers borrow money from them to compensate for the hike in the repo rate.
The central bank yesterday said the 7% rate remains appropriate to maintain the one-to-one link between the Namibia dollar and the rand, without compromising growth.
The bank said economic activities in emerging markets and developing countries (EMDEs) have improved during the first quarter of 2017, compared to the previous quarter, except for South Africa, which contracted.
"We have seen data from South Africa that economic growth in the first quarter of 2017 had contracted. As South Africa is our biggest trading partner and one of the biggest economies on the continent, it is in our own (Namibian) interest if the South African economy is growing," Shiimi stated.
"Since the last MPC meeting in April 2017, most central banks in both advanced economies and EMDEs left their benchmark rates unchanged, except for Brazil and Russia."
He reiterated that available indicators show that the domestic economy remained weak for the first four months of 2017. Growth in credit extended to the private sector slowed further.
Shiimi said the fact that credit extended to the private sector slowed is good news. For those borrowing to finance business, the governor was pleased that they used that money to finance and expand their businesses.
"It is good to see that we as individuals have started to save and reduce our debts. It is welcome to see a slowdown in credit extended to households," he said, adding that it is best to save as it is in the best interest of the future of the country's economy.
The stock of international reserves also remained sufficient to meet the country's foreign obligations.
"As at 1 June 2017, the preliminary stock of international reserves stood at N$24,2 billion. This was largely a result of local institutional investors, who decided to liquidate some of their foreign investments to invest in the domestic economy," he noted.
Shiimi said the country's inflation, which slowed from 8,2% in January to 6,7% in April, is forecast to average at 6,9% at the end of 2017.