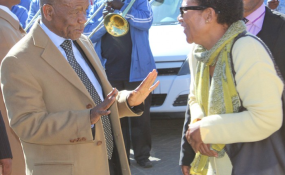 Photo: File photo/Lesotho Times
The estranged wife of Lesotho's prime minister-elect, Tom Thabane, has been shot dead, two days ahead of her husband's inauguration. The killing has raised fears political violence may return to the mountain kingdom.
Police spokesman Clifford Molefe said Lipolelo Thabane had been driving home with a friend on Wednesday evening when an assailant shot at the pair.
The murder took place in the village of Ha Masana, 35 kilometers (22 miles) south of the capital, Maseru.
Molefe said Lipolelo Thabane had died on the scene, while her seriously injured friend was taken to a nearby hospital. He added that the motive was unknown and that investigations were still being conducted.
The prime minister was "devastated" by the killing, according to Samonyane Ntsekele, the secretary-general of Thabane's All Basotho Convention party.
"Yes, it is true that Mrs. Lipolelo was shot dead last night," said Ntsekele. "Everyone is traumatized by these developments." Ntsekele said it was too early to know if the shooting would affect Thabane's inauguration, scheduled for Friday.
Seeking power through coalition
The killing comes as Lesotho seeks long-absent political stability. Thabane's All Basotho Convention secured 48 parliamentary seats compared with the 30 won by the Democratic Congress party of his opponent, Pakalitha Mosisili.
That result has allowed Thabane to form a coalition with other parties, giving him a majority in the 120-seat parliament.
Thabane and his wife, who had lived separately since 2012, were embroiled in a bitter divorce dispute. During a previous stint as prime minister for Thabane, Lipolelo won a court case that affirmed her position as first lady of Lesotho, instead of the premier's youngest wife, Liabiloe.
Thabane fled to South Africa in 2014 saying he did not feel safe after he was targeted in a coup by sacked army chief General Tlali Kamoli. Thabane returned to Lesotho in February, while saying he still feared for his life.
rc/tj (dpa, AFP, Reuters)