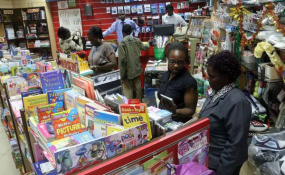 Photo: Joseph Kanyi/Daily Nation
By Editorial
A ministerial directive for a review of the list of approved books for primary and secondary schools is bound to trigger fierce debate.
It is a reversal of the progress made in liberalising school books publishing and a return to the old era of State monopoly.
Education Cabinet Secretary Fred Matiang'i has directed the Kenya Institute of Curriculum Development (KICD) to reduce the number of course books from six per subject to one.
The decision has been informed by a belief that booksellers and publishers are exploiting parents.
PREVIOUS POLICY
Book trade is fraught with underhand dealings, but that cannot be cured by the one-title course book directive.
The textbook policy developed in the 1990s that sought to liberalise the trade stipulates that all books are vetted and approved by the KICD, which provides a list of titles for every subject per class, but out of which schools pick one.
The principle is to offer choices and schools are not expected to go for all of them.
CHOICE
The only trouble is that some schools have been forcing parents to buy more than one title, which is a breach of policy the ministry's Quality and Assurance Division should have dealt with administratively.
We support efforts to reduce the textbook burden, but a decree that only one title should be approved is unreasonable.
Not only does it deprive schools and parents of choice, it will definitely kill the textbook publishing and trade.