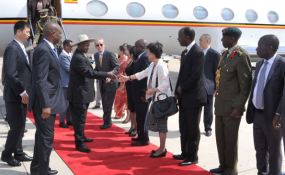 Photo: PPU/Daily Monitor
Beijing — China welcomes Uganda's clarification that two Chinese nationals allegedly involved in an ivory trafficking case are not diplomats, a Foreign Ministry spokesperson said Wednesday.
The Ugandan Ministry of Foreign Affairs issued a statement Monday, confirming that the two Chinese nationals who are allegedly involved in collaborating with Uganda Wildlife Authority officials in exporting ivory "are not accredited diplomats with the Embassy of the People's Republic of China in Uganda."
The ministry expressed regrets over the negative impact caused by the incident and reiterated its commitment to strengthening relations and friendship with China.
"We are aware of the statement issued by the Ugandan foreign ministry, and we appreciate the clarification and the ministry's positive attitude toward strengthening bilateral ties," Chinese Foreign Ministry spokesperson Lu Kang said at a daily press briefing.
Chinese public servants, diplomats and government-dispatched personnel visiting abroad are ordered to abide by strict codes of conduct and regulations. They are prohibited from purchasing, trading or carrying any rare, endangered wildlife species or their products, and those who violate the regulations will be severely punished, said Lu.
"We support African countries including Uganda in dealing with such cases in accordance with their laws," Lu said.