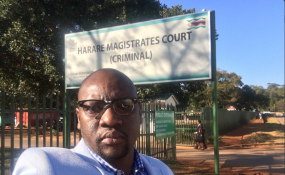 Photo: Evan Mawarire/Twitter
By Tendai Rupapa
#ThisFlag campaign leader Evan Mawarire accused of subverting a constitutionally- elected Government or alternatively inciting public violence, has been indicted to appear at the High Court on September 25 for trial.
Mawarire yesterday appeared before magistrate Ms Barbra Chimboza who served him with indictment papers. According to Section 66 (2a) of the Criminal Procedure and Evidence Act Chapter 9:07, Mawarire will remain on bail.
According to the section, if a person is committed for trial at the High Court and has earlier been granted bail on the charges for which he is committed for, the grant shall stand, but a High Court judge may alter conditions or revoke the bail and commit the person to prison.
In the past, suspects used to lose their freedom upon indictment and had to re-apply for bail at the High Court. Mawarire, through his lawyer Mr Harrison Nkomo, is however, making an application for referral of his matter to the Constitutional Court.
The application continues today. The prosecutor Mr Michael Reza, alleged that between July 13 and December last year, Mawarire went to print and electronic media inciting Zimbabweans to revolt against the constitutionally-elected Government.
He allegedly urged people not to go to work and they engaged in violent demonstrations. It is alleged that he continued circulating videos on social media platforms inciting people to demonstrate.