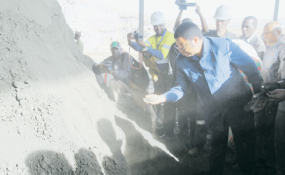 Photo: The Citizen
By Pius Rugonzibwa
Mwanza — Chama Cha Mapinduzi (CCM) members in Mwanza Region have congratulated President John Magufuli for his tireless efforts in ensuring that the country benefits from its natural resources.
They have simultaneously vowed to elect credible leaders of the party at all levels. The sentiments were voiced by the Mwanza Region CCM Secretary, Mr Raymond Mwangwala, yesterday.
He said that during the ongoing intra-party elections in the region, CCM will ensure that victors would only be credible individuals with the requisite integrity and ability to follow in the footsteps of the national chairman.
Mr Mwangwala praised the government for its crusade against people who have been plundering national resources. He cited, as a topical example, revelations of, and actions against local officials and exploitative mining companies that had been colluding in perpetrating dirty deals.
The deals, he said - echoing similar concerns raised by many other people had denied most poor Tanzanians better social services that they would have otherwise enjoyed. He remarked: " Efforts by our National Chairman and President can only be sustained by faithful and credible leaders who are ready to follow in his footsteps.
We will use the current intra-party elections to attain that objective." Various members of the party represented by specific groups joined in the chorus of praise for President Magufuli and the government he over sees.
They said the current efforts would create an environment for enabling Tanzanians reap fully, the benefits of natural resources that a handful of crooks had been plundering.
They further remarked that the ban on exports of mineral concentrates and scrutinizing all mining contracts was highly commendable. They urged the Head of State to sustain the campaign and cast the spotlight on other ministries as well.
In his message, the Chairman of the Party's umbrella outfit for Mwanza-based higher learning institutions, Mr John Mayala, said Dr Magufuli's decision to form committees on gold and mineral concentrates had been timely.
He added that his decision to accept committees' recommendations was a clear demonstration of his determination to streamline the sector.
"The war against looters will yield delightful benefits, by way of part of the revenue from local mines funding the higher learning education sector, improving infrastructure and giving loans to petty traders," he said.
Mr Mwangala said the local leadership would soon embark on a campaign to stop manipulation of CCM assets by a few greedy people, some of whom conducted businesses in its buildings without paying rent for many years.
He explained that July 30 had been set as the deadline by which a list of all legitimate tenants would be drawn and who would be issued legally binding contracts and who would pay rent and other dues directly to the party.