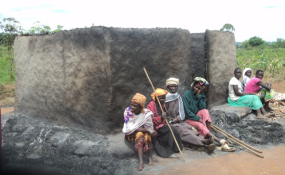 Photo: Patrick Okaba/Daily Monitor
By Moses Ndhaye
Thousands of victims displaced by the latest violence in Apaa Parish, Amuru District have finally accepted food relief donated by the Office of the Prime Minister (OPM).
The donation of up to 5,000 kilograms of beans and 50,000 kilograms of maize flour were supposed to be distributed to the displaced persons on Wednesday. But a group of residents displaced in Apaa Trading Centre rejected the food citing grievances against government.
They accused the Prime Minister Dr Ruhakana Rugunda for failing to meet them during his visit to Amuru and opted to meet leaders in Amuru and Adjumani districts. The visit followed an attack that killed eight people and injured more than 20 others in a conflict pitting the Madi community of Adjumani District against the Acholi community of Amuru.
The displaced persons also demanded for an independent chemist to test the food to ensure that it is free of poison while others observed that the rations were likely to stir conflicts due to inadequacy. They also demanded that the OPM purchases for them nonfood items like saucepans, plates and tents as opposed to food that would be consumed within a day.
They have however reversed the decision. The acceptance came after a visit by the State Minister for Primary Health Care (PHC) Joyce Kaducu who individually cooked and ate the food to confirm that it was free of poison. She assured the people that the food was safe for human consumption.
Amuru district Chairperson Michael Lakony says that distribution will begin today, Friday, with the most vulnerable people including the elderly, injured, children and those suffering from acute hunger. He says up to 7,000 people have been registered for food relief.
A team of cultural leaders and government officials led by the Acholi paramount chief of Ker Kal Acholi on Thursday visited people who have been displaced at the Apaa Trading Centre.
The land disputes in Apaa Parish started after part of Pabbo Sub County, in Amuru district was forcefully demarcated as part of Adjumani amidst protests from Amuru residents. The area under contention covers 20 square kilometers of land located in a contested wildlife reserve gazetted in 2002.
Authorities and residents of Amuru district accuse Adjumani District of erroneously designating land in Amuru as East Madi Game Reserve for Uganda Wildlife Authority to set up a conservation area.
Adjumani District council says that it was guided by a colonial map which indicates that the boundary of Adjumani extends more than 20 kilometers beyond Zoka Bridge, the alleged boundary with Amuru district.
Several attempts to demarcate the disputed boundary have attracted angry protests from residents in Apaa in Amuru district saying the boundary had been tampered with.
Meanwhile, a consortium of civil society organizations in Uganda has condemned the conflicts.
The group led by the country acting director Action Aid Uganda Christine Aboke says government must come up with a lasting solution to end cases of land conflicts in the country.
She says most of the people suffering in this conflict are children and women.
"We demanded that the commission of inquiry into the land matters headed by Justice Catherine Bamugemereire immediately be allowed to pursue the Apaa case as an emergency and come up with concrete recommendations to address this issue," Ms Aboke said.
The other organizations includes Oxfarm, SEATINI and Pelum Uganda among others.
With agencies