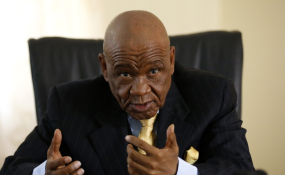 Photo: Al-Jazeera
Tom Thabane has been sworn in as Lesotho's prime minister for the second time in just over two years.
Thabane took over from Pakalitha Mosisili who had replaced him in 2015.
Deputy President Cyril Ramaphosa and the Prime Minister of Swaziland, Sibusiso Dlamini, were among the dignitaries.
Outgoing prime minister Mosisili did not make his exit speech and some opposition members of parliament boycotted the inauguration, in a sign that he (Thabane) took over a "deeply divided country".
A clergyman seen as sympathetic to the outgoing government was booed off stage.
Thabane also left the stadium without military bodyguards as the issue of who was going to provide his security remained unresolved.
Legally, the army provided security for senior government officials.
But Thabane has a sour relationship with the military, which he accused of trying to topple him in August 2014, instigating the fall of his government and subsequently forcing him into exile where he remained for two years.
Investigate killings
Thabane has said he didn't trust the army to protect him. He was likely to be protected by the police force.
Thabane told a packed national stadium that police should be helped to investigate killings in the country. He was most probably referring to the June 2015 death of Brigadier Maaparankoe Mahao by soldiers who claimed they had been instructed to arrest him for allegedly planning a mutiny.
The investigation into Mahao's killing has stalled despite recommendations by a SADC-led commission that the suspects, who were all soldiers, should be made to answer for their actions.
In the past, police have accused the army of stonewalling the investigation by refusing to release crucial evidence and the suspects for questioning.
In his speech, Thabane said he hoped reforms would bring political stability.
Lesotho has been in the throes of a political chaos for more than half a decade.
Deputy President Ramaphosa has been SADC's facilitator to Lesotho for the past five years as the regional blocs tried to resolve the country's political and security instability.
'Respect the rule of law'
In that time Lesotho has had three governments and three elections that have cost almost R1 billion.
"One looks forward to a stable, normal and internationally accepted five-year cycle between elections," Thabane said.
"I therefore assure you that this government will be for all Basotho without any form of discrimination."
Thabane said his government will "respect the rule of law, rebuild and strengthen the pillars of democracy, and abhor corruption in all its forms".
Thabane's inauguration came a day after his estranged wife Lipolelo Thabane was shot dead by unknown gunmen near her house in Ha Masana, 20km from Maseru.
Police said they were investigating the incident which has since triggered fears of another wave of instability.
Source: News24