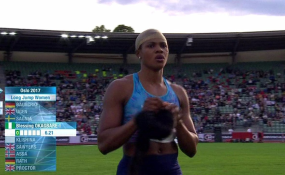 Photo: Blessing Okagbare/Instagram
By Bamas Victoria
Nigerian athlete, Blessing Okagbare, had a wardrobe fail moment during a track and field meeting in Oslo when her wig fell off.
The 28-year-old star athlete made light of the incident on her her Instagram account. She Said "It is what it is."
The 2008 Beijing Olympics medalist placed seventh at the meet.
When you talk about something for so long and it eventually happened 😂😂🤣😂😂😀😂😀.. Oh well, it is what it is then... heads up...🙌🙌🙌🙌💪💪💪💪😍😍😍😘😘😘😘🙈🙈🙈
A post shared by Blessing Okagbare-Ighoteguonor (@blessing_okagbare) on Jun 15, 2017 at 1:46pm PDT