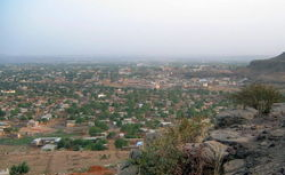 Photo: /whoweare.html
An armed group attacked the luxury Campement Kangaba resort east of the capital and there were reports hostages had been taken. The number of casualties was unclear as the assault continued into the evening.
Gunfire rang out at the Campement Kangaba on the outskirts of Bamako on Sunday afternoon, according to a security official with the UN mission known as MINUSMA. The assault continued into the evening, according to local reports.
Residents reported hearing shots fired and people fleeing as smoke billowed into the air.
"It is a jihadist attack. Malian special forces intervened and about 20 hostages have been released," said Security Minister Salif Traore. "Unfortunately for the moment there are two dead, including a Franco-Gabonese."
"Security forces are in place. Campement Kangaba is blocked off and an operation is under way," Security Ministry spokesman Baba Cisse said by telephone. "The situation is under control."
"The operation is ongoing and we estimate that there are between three and four assailants," said Commandant Modibo Traore, a spokesman for the Malian special forces in the former French colony.
Local resident Modibo Traore described what he witnessed: "I heard gunfire coming from the camp and I saw people running out of the tourist site."
French military spokesman Col. Patrik Steiger said he had "strictly no information" about French military involvement in the incident at the Campement Kangaba. He said there were no French troops based in Bamako, but about 2,000 French troops were based in northern Mali fighting Islamic extremists.
Two attacks in two days
There was no immediate claim of responsibility for the attack, which came during the final week of the Muslim holy month of Ramadan. People in the predominantly Muslim country have been fasting from sunrise to sunset for the past three weeks.
It's the second deadly attack in the West African country in as many days. At least five soldiers were killed during a jihadist attack on a military base in the north of the country Saturday.
Many militant groups
Several Jihadist groups have been waging insurgencies in Mali for several years. Islamist fighters are present in the north and center of the country.
In November 2015 gunmen seized the luxury Radisson Blu hotel in Bamako. Some 20 people were killed in that attack, including 14 foreigners. Germany has considered sending troops to the strife-torn country.
In 2012, Mali's north was seized by jihadi groups linked to al Qaeda whose fighters hijacked a rebel uprising by ethnic Tuaregs.
A French military operation in January 2013 ousted the Islamist rebels but jihadists continue to mount frequent attacks on civilians and the Malian army, as well as on French and UN forces present in the country.
bik/jm (AFP, Reuters, AP)