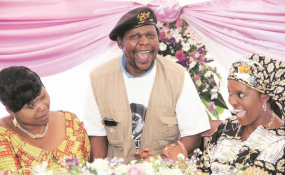 Photo: The Herald
By Tawanda Marwizi
The death of revolutionary musician Cde Dick Chingaira well known as "Cde Chinx" has left a void in the arts industry, several players have said. Musicians from different genres visited the Chingaira's new home he received from Zimbabwe Music Awards (Zima) to pay their condolences to the family, relatives and war veterans that were gathered there.
Among the mourners were Nicholas Zakaria, Zexie Manatsa ,Alick Macheso, Mbare Chimurenga Choir among other musicians who have all agreed that the singer was determined to take the music industry far.
Zimbabwe Music Awards Chairman Mr Joseph Nyadzayo described Cde Chinx as a person who was in the music industry for nation-building.
"Music can be used to mobilise people for a noble cause and Cde Chinx was instrumental in that. It will be very difficult to have a musician of his calibre because during pre and post-independence he mobilised people for a noble cause," he said.
He said the musician abandoned all other messages for nation building issues.
"You can feel that he is departed and it might be difficult to find a musician especially these young stars that are likely to fill his gap," he said.
Nyadzayo said Cde Chinx's music was not 'partisan' as some people would put it but he focused on themesthings that were instrumental in national building.
"He even challenged outside forces that wanted to intervene in our domestic issues. He defended the country that is why I am saying his music was not partisan but was instrumental in nation building," he said. Apart from being a national builder, Nyadzayo said Cde Chinx was very social and would work with different people from all age groups.
"That time when dancehall musicians was being condemned he was very tolerant to them and I am happy that he worked with everyone well in making sure national issues are addressed," he said.
Most of the musicians have worked with him on and off stage.
Manatsa said he worked with the musician after war.
"When he came from the liberation struggle he had no instruments and we worked with him on most Zanu-PF star rallies. He was a musician determined to take the industry forward. In summary Cde Chinx was a good person who worked with everyone," he said.
Zakaria said he worked well with Cde Chinx and they had lost someone who was dedicated to his works.
"It has pained me because we used to share ideas among them how to curb piracy. I hope his children will take his work further," he said.
Mbare Chimurenga Choir members said they had worked well with the musician. Zimbabwe Prisons and Correctional Services band who worked with the musician when he released his last album believe the musician's good works will be cherished and his songs will be used forever in nation building.
They made the announcement during their performance at the funeral.